---
The number one bank in the country, Bank of Ceylon (BOC) has won the Best Employer Brand Award and Best Bank in Public Sector – Excellence and Leadership Award for the Banking and Financial Services Industry, presented at the event hosted by the World HRD Congress in its 12th Employer Branding Awards held recently at Taj Samudra, Colombo.

Sri Lanka's Best Employer Branding Awards were launched to recognize the top companies and brands which use employer branding for a competitive advantage.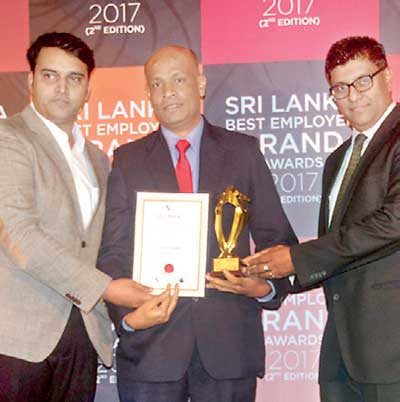 BOC was recognized as the Best Bank in the Public Sector at the Banking and Finance Services Industry (BFSI) Excellence and Leadership Awards 2017 citing criteria such as leadership and vision, inspiration and engagement, commitment and delivery, future orientation, integrity and ethics and ability to sustain.

During the past years, the bank has exhibited exceptional financial performance in terms of profit and growth whilst managing a diverse customer portfolio representing all socio-economic layers. With the stability that has been proven over 78 years, the bank has demonstrated market leadership in many areas of banking and pioneered to transform the Sri Lankan banking and financial landscape significantly.

Currently, BOC is the highest profit-earning single business entity in the country with Rs.31.2 billion profit before tax (PBT) for 2016 and counts for over Rs.3 trillion in its balance sheet in assets, deposits and advances.

With the extensive branch network and customer touch points that consist of 625 branches, 15 SME centres and 733 ATMs/CDMS that are spread across the country, the bank is not only providing the best-in-class customer service to all customers but has developed its strategies to cater to the needs of any socio-economic segment in any part of the country.