---
The Ceylon Chamber of Commerce (CCC), Sri Lanka's premier business chamber, yesterday endorsed the recent monetary policy measures implemented by the Central Bank (CB) in enhancing the country's ailing private sector credit growth.

The Central Bank last week announced a reduction in the interest rate paid for the excess moneys parked by commercial banks in its Standard Deposit Facility (SDF), if a bank uses the facility more than three times a calendar month.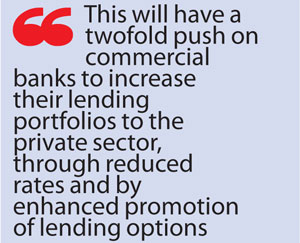 Accordingly, a commercial bank can keep its excess money in the SDF at an annual rate of 6.5 percent only three times during a calendar month and further deposits will be paid a lower interest rate of 5 percent per annum.

"This will have a twofold push on commercial banks to increase their lending portfolios to the private sector, through reduced rates and by enhanced promotion of lending options.

As the impact of pawning advances wades off and with these new measures we believe that there will be an improvement in credit growth," the CCC noted.
The chamber also praised the Central Bank for reporting a growth of 7.8 percent for the second quarter of 2014, against a 6.8 percent in the same quarter of the previous year, with higher growth in agriculture —despite a drought— and manufacturing.

"We are confident that the growth momentum of the first half could be maintained in the second half to achieve the year-end target."
The CCC further commended the Central Bank for keeping inflation at low levels despite the adverse external factors.

"Exports growth has continued and complemented by net flows from trade in services and capital inflows have led to a healthy Balance of Payments position."
However, prominent economist and ex-central banker W.A. Wijewardena commenting on the recent monetary action by the Central Bank said if banks are forced to lend to the private sector through policy initiatives, they will lower their credit standards, creating a credit snowball similar to the credit bubble that hit the US economy prior to the financial crisis of 2007-08.

In his regular column in our sister paper Daily FT, Wijewardena further noted, "Since economy is unable to sustain this credit snowball, it would start to meltdown in no time. It is an invitation for an unwanted financial sector crisis in the country."

He further talks about a hidden macroeconomic anomaly in Sri Lanka's economy that has led to 'creditless growth' in the last four quarters—where the Sri Lankan economy has recorded an impressive growth despite low credit growth.