---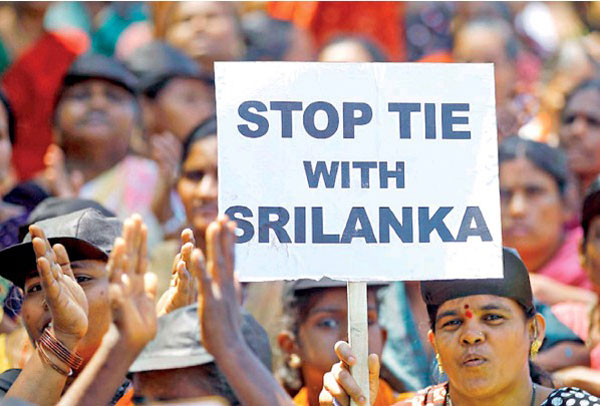 Geographically, Sri Lanka is located in the Indian Ocean, almost hanging from the Indian subcontinent, having been terrestrially connected to it as recently as the Chandragupta Maurya period, as described by the Greek ethnographer, Megasthenes. The two landmasses are now divided only by a thin strip of sea that many have crossed swimming at a stretch.

India's southern capital Chennai (formerly Madras) and Colombo are almost equidistant from the Jaffna peninsula. SriLankan Airlines operates a minimum of five daily flights to different South-Indian cities, in addition to the ones by Indian operators.Metaphorically, Sri Lanka can be at many places. It can be somewhere in the South China Sea or in the Atlantic Ocean, not too far from New York, depending upon who is in power. Sadly, we give more importance to the metaphor, ignoring the ground realities.We see no issues in entering into free trade agreements (FTAs) with China but IndoLanka CEPA, which was supposed to bring far better outcomes, never materialises. We see nothing wrong when Chinese grab our work opportunities but sorry, no Indians. We want them out at any cost. We are, after all, Sri Lankans.

A few years back, in a business article titled 'Good Chinese - Bad Indian' I wrote, "It was more our genes vs. CEPA. We have seen 'Indians' as adversaries for millennia. Mahawamsa narrates the exaggerated incidences of mightily rulers who fought away the South-Indian invaders from Chola, Pandya, Chera and Pallava empires, while only once we fought for any of them. (Parakramabahu I joined Pandyas against Cholas)No wonder we still distrust anybody from the other side of the Palk Strait. It was the unparalleled enmity in the Sri Lankan history.

We have being treating China differently. Despite the Chinese were no friendlier than the Indians, nobody sees pitfalls in doing business across the Great Wall. The story of Cheng-Ho, admiral to Emperor Cheng Tsu, abducting then Sinhala ruler Alakeshvara to China, for not bequeathing the imperial request for the sacred tooth relic (dhantadatu), is either unheard or forgotten.

Our ancient rulers were always eager in building relationships with the Chinese. King Upatissa (368-410 AD) sent a mission across Central Asia to a Chinese emperor of Tsing dynasty, which took 10-long years to complete. Bhatika Abhaya, Gajabahu I, Mahanama, Dhatusena and Amba Samanera Silakala were a few others to follow this great tradition.These attempts preceded the Ming dynasty naval expeditions to the Indian Ocean, during which Sino-Lanka sea trade was common. The Colombo museum has more artefacts from China than any other foreign country.

The chronicles also record how our rulers went overboard establishing trade relationships with (then) Burma, Thailand and Indonesia but extremely rarely with India. Apparently we were eager to do business with anyone, if it were not India."Nothing has since changed. IndoSri Lanka trade happens more despite government efforts than because of them. As a nation, we behave as if we are unaware of the US $ 700 billion market in the neighbourhood. This is considering SouthIndia only. India, of course is US $ 1,875 billion big and currently the world's 10th biggest economy.

As for the five hubs strategy, I first thought it was only for propaganda purposes. Governments create such models for one-time use and then forget all about them. The repetition shows the government can, after all, be serious. The problem— other than the sheer will there is little that can make it a reality.
Particularly, it will never be possible if we continue to leave South-India out of our trade equations. It is high time we take the strategies individually and see where we would end if we were to operate with an imaginary trade barrier across the Palk Strait. Maritime,Aviation and Tourism hubs For the sake of space, let me take all together. To become a transportation hub, one must fulfil minimum two requirements: supply and demand.For example, for an aviation hub, there should be enough volume of travellers who find direct travel either not available, inconvenient or costly. That is how Hong Kong, Singapore, Kuala Lumpur and Bangkok became aviation hubs.

Hong Kong, t he busiest airport i n SoutheastAsia handles 60 million passengers annually. Even Kuala Lumpur, the smallest among the four, in terms of volume, caters to 32.5 million. The numbers are high because they are surrounded by airports that operate mostly short distance flights. Were my destination Sydney, from Colombo, I have no other option than transiting at one of the above airports.

How can Katunayake International Airport (KIA) still with only seven million annual passengers compete with the giants? From where does it attract more passengers? Sri Lanka? Sorry, hard luck. All Sri Lankan passengers are already in. Pakistan? This 196 million nation has 12 international airports, with the major ones in Karachi, Islamabad, Lahore, Peshawar, Quetta and Rawalpindi. The first already handles 16 million passengers annually and is better linked than KIA.

Even passengers from other Pakistani airports find no reason to travel all the way down to KIA with better equipped and better linked Dubai is closer. Dhaka does not generate much volume, but even if it does, Southeast Asian airports are closer. Even the tiny Male airport has more direct flights than KIA.
I hope you get the picture. The only way KIA can become a hub is by catering to the South-Indian passengers.Take this together with tourism. While I have no data for South-India per se, India tops the list of tourist arrivals by country of residence. In 2013, India accounted for more than 200,000 out of 1.2 million tourists arrived here. What facilities do we provide them?

The Indian rupee still remains a nonconvertible currency in Sri Lanka. Except for Pakistan and probably Afghanistan, it remains the only South Asian country that does not use the Indian rupee banknotes parallel with its own currency.All Indian visitors here lose money in converting first Indian rupees to US $ and then US $ to Sri Lankan rupees. Indians receive no preferences in obtaining visa. It is vice versa for Sri Lankans but India to Sri Lanka is not as same as Sri Lanka to India.

Terrestrial transportation can too play an important role in making Sri Lanka a maritime and/or aviation hub. Imagine the difference a terrestrial link between the two countries would have been made. We feel South-Indian cities are too far but they aren't. Madurai, on a car, should be less than three hours from Mannar. Any place to Kerala is within six hours. Chennai-Colombo on good roads may take about 12 hours.

In fact, the entire Kerala and Tamil Nadu states with the lower half of Karnataka are within this limit. What does this mean? With a terrestrial link and hassle-free entry, SouthIndians can take their flights directly from KIA. This is no joke. KIA is better equipped, better networked (except Chennai, which is at the same level) and more convenient than any South-Indian airport.

A terrestrial link also means South-India sending containers to and fro Colombo and Hambantota sea-ports for shipping. Both have the advantage of position and systems. As I have spent four years in an institution in the west coast along NH 17, Mumbai-Kochi National Highway, I know the volume of traffic that can be. The trucks then travelled for more than 24 hours. Half of that is far convenient.

A 35-kilometre bridge to link the two countries had been first proposed more than a century back. This, in 1894, came from the consultant engineer for railways in Madras. It was taken seriously by the then colonial government. A technical blueprint was made. A cost analysis too was done. By 1914, the Mannar line was built to connect Talaimannar on Mannar Island to the Sri Lankan mainland.On the Indian side, the Indian railway network was extended to Dhanushkodi. Still the international bridge didn't happen. Only a ferry service connected the railheads at Talaimannar and Dhanushkodi until the 1960s.

Then, when a cyclone destroyed the pier and the rail line at Dhanushkodi, the ferry service resumed with the Indian terminus at Rameshwaram, a service that also closed, due to the conflict. It has not been relaunched. It might restart after the railway line to Talaimannar is rebuilt in near future.We need certainly more than a ferry service. It can be a significant investment. Still it guarantees to boost the business across the Palk Strait. India's position is still vague with Setu Samudram but things might change if Sri Lanka is serious on this. The problem, right now, is both parties are not eager and not because they fail to see the potential.
COMMERCIAL HUB
Sri Lanka apparently wishes to establish itself as the foremost centre in the South Asian region in the provision of commercial services, international banking and investments. I am at a loss how this will be done.Sri Lankan banks have minimum presence offshore. Bank of Ceylon has branches in the UK, Seychelles, Maldives and Chennai in India. Commercial Bank has a presence in Dhaka. It is a long way of becoming a hub.

For example, ICICI Bank, India's largest private bank with US $ 99 billion assets, far exceeding the gross domestic product (GDP) of Sri Lanka, is present in the UK, USA, Russia, Canada, Singapore, Bahrain, Hong Kong, Sri Lanka, Qatar, Dubai, China, South Africa, Bangladesh, Thailand, Malaysia and Indonesia. That is the competition.

I guess Sri Lanka has to be complacent with a lower target, like becoming a regional one-stop shopping centre. Colombo, compared with the other South Asian cities, still offers better quality/price options for selected commodities. Again the market is South-India.
The price differences between the two countries are so significant, even now anyone volunteers to carry a certain quantity of branded alcohol could cover the airfare fully to some South-Indian destinations. Sri Lanka can use this to its advantage. Facilities for shopping also attract more tourists. Not bad, at least for a start.
ENERGY HUB
In this case, my job of convincing will be easier. Practically, Sri Lanka cannot export energy to any other country than India. Therefore, South-India is central for Sri Lanka's plans to become an energy hub. A good business model, though not easy to implement, is to generate redundant power and sell the excess to South-India.

The demand exists. South-Indian states try hard to meet their demand with low-cost electricity. The supply is so low that the state electricity boards are forced to restrict power for a few hours each day. Sri Lanka can piggyback on this. But how can it offer cheap electricity to India when domestic electricity generation costs are high?

The only solution: nuclear power. Fossil fuel prices are on the rise. We fear for their long-term existence. Opportunities for hydropower have already been fully utilised. Alternative energy is not a viable option in mass scale. Nuclear power plants, despite their typically high capital costs for building the plants, have low operating costs.

Comparison with other power generation methods is dependent on construction timescales and capital financing for nuclear plants, the future costs of fossil fuels and renewables as well as for energy storage solutions for intermittent power sources. Cost estimates need to take into account plant decommissioning and nuclear waste storage costs.

Measures to mitigate global warming, such as a carbon tax or carbon emissions trading, also favour the economics of nuclear power. In general, nuclear power looks a viable response to future cheap energy demands of a country such as Sri Lanka. Economies of scale shows the size of the plant that can offer cheaper electricity is too large for our own demand. Therefore, we have a redundant supply for exporting.

Then, nuclear power or not, a backto back link to South-Indian state grids is something long overdue. Almost all state electricity boards in India have such links. Thus, they can sell any redundant power generated. They can also buy power from others in a need. There is no need to generate the exact demand always (which is not economical) like we do here. Submarine High voltage DC (HVDC) link can be easily used for this purpose.

KNOWLEDGE HUB
This is nothing new. Once we had both Indian students and teachers at our schools and universities. Sri Lankan education institutes had a regional reputation. We lost the quality as well as reputation only after we started compromising them for votes. We are far behind now. Sri Lankan universities do not appear within the top 1,000 in most world benchmarking lists or top 200 in most regional ones. We surely have a long way to go.
Winning the lost glory back is no simple task. Still, if that is what we look for, we should better start. South-India is critical in that effort too. There is a high demand in quality education in all South-Indian states. Why not exploit that? Facilitation is all what we need. Why not use the same strategies India, Malaysia and even Bangladesh use to attract our students?

Even more important is the exchange of skilled labour. Our IT-enabled services too are not doing bad. The US $ 100 million income in 2003 has reached US $ 800 million in 2013. The number of IT professionals has increased from 4,000 in mid-1990s to 75,000 in 2013. It will be 100,000 next year.
Interestingly, we are just one hour air travel from one of the biggest IT markets in Asia. Have we ever attempted exchanging of resources? How many Sri Lankans work in South-Indian IT firms and vice versa? If Sri Lankan informaticiens can work in Singapore and Dubai why not they work in Bangalore? What prevents us from attracting Indian informaticians to Colombo?

CONCLUSION
I am not sure how serious the government in its five hub strategy. If I were to devise a strategy for Sri Lanka, I would settle for something less ambitious and more practical. Still becoming more ambitious is no harm. By aiming for the sun and moon, we might end up with stars at least.
Thus, for arguments sake, let's take the five hub strategy is workable. The problem, however, is as clearly shown above with examples; it will not work if we continue to keep South-India out of the equation. Without South-India, we will be as isolated as we are now. The reasons that separate Sri Lanka from South-India are largely political. This is unfortunate. Business should be free from political, religious and cultural barriers. A power game, at the cost of losing opportunities will not benefit either party. Sri Lanka does not have the kind of problems some other of its neighbours have with India.

Sri Lanka has always been one of the friendliest nations to India, with the relationship undergoing difficulties only a handful of occasions at the entire postindependence history. Those too were minor. Right now Colombo and Delhi have no serious issues to resettle.

Sri Lanka's political hostilities, if any, are with only one South-Indian state, that too largely with its government and not with people. If these prevent the business between the two countries it is sad. It is time that both governments act in a more rational manner. After all, we are not Israel and Palestine. (Chanuka Wattegama, a policy researcher, can be contacted at chanuka@hotmail.com)