---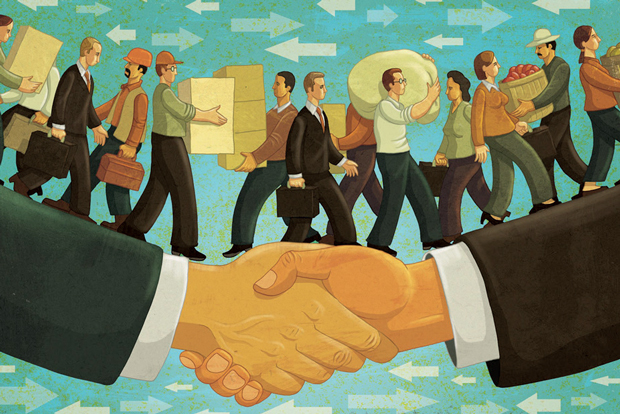 By Development Strategies and International Trade Ministry
At present, trade in services accounts for more than 25 percent of global trade. As the World Trade Organisation (WTO) negotiations have come to a standstill, most countries attempt to engage in more services trade via regional and bilateral free trade agreements. Sri Lanka is already a signatory to a regional trade agreement by the name South Asia Trade in Services (SATIS) that came into operation in 2010.
However, as the negotiations in the SATIS have got protracted, like in the WTO, Sri Lanka is planning to incorporate services liberalization in the existing India-Sri Lanka and Pakistan-Sri Lanka free trade agreements (FTAs), as well as the proposed agreements with China and Singapore. In this context, Sri Lanka will engage in services liberalization with India under the proposed Economic and Technology Cooperation Agreement (ETCA).
First, let us examine whether Sri Lanka has benefitted from whatever unilateral liberalization efforts it has made when trading with India in services. As is well known, Sri Lanka benefits from its unique geographical location in the Indian Ocean. It is centred in the shipping lines crisscrossing the Indian Ocean. The Colombo Port has benefitted from many ships that arrive for transshipment, bunkering, etc. Transshipment in the Colombo Port has increased by leaps and bounds in recent years and it is estimated that 70 to 80 percent of the twenty-foot equivalent units (TEUs) handled by the Colombo Port is transshipment to India. This is a major source of earning to the port in particular, and the country in general.
Another shipping service that India uses heavily from Sri Lanka is ship repair and building. This task is performed by the Colombo Dockyard and as one of our previous columns highlighted, Colombo Dockyard has significantly benefited by servicing Indian vessels and meeting their requirements for boats/vessels in the Indian market.
Sri Lanka has relatively liberal policies in regard to aviation. India has opened eight destinations to SriLankan Airlines (Delhi, Mumbai, Chennai, Bangalore, Trivandrum, Madurai, Trichy and Kochi) and three destinations for Mihin Air (Kolkata, Varanasi and Gaya). No other international airline has access to so many destinations in India. There are 120 flights a week to India and close to 40 percent of the revenue for SriLankan Airlines comes from the Indian market. Clearly, like shipping, the aviation sector has benefitted from serving the Indian market.
Tourism is another sector that has benefitted with such air connectivity. India accounts for 20 percent of the tourist arrivals in Sri Lanka and ranks on the top of the country-wise tourist arrivals. Unlike many Western mass tourists, Indians are high-spending and contribute more foreign exchange (per individual tourist) to the local economy. The Indian tourist flows received a boost when Sri Lanka unilaterally liberalized immigration laws in 2002 to issue visa at arrival for Indian visitors. In 2015, India reciprocated this gesture.
Good air connectivity with India has also stimulated Sri Lankan tourists to India, in particular pilgrims visiting religious destinations like Buddha Gaya (and other Buddhist cities such as Saranath, Rajagir, Sravasti, Kusinagar, etc.), Goa, Tirupathi, Putapathi and so on. India is also the main source of meetings, incentives, conference and exhibitions (MICE) tourists to Sri Lanka.
Major promotional programmes are already underway in India to attract more MICE tourists to Sri Lanka (https://srilankawonderofasia.wordpress.co m/tag/mice-tourism-in-sri-lanka/). According to Indian statistics, Sri Lanka ranks number four in Indian tourist arrivals (behind the US, UK and Bangladesh) with 301,601 tourist arrivals in 2014, which accounted for 4 percent of Indian overall tourist arrivals. Services liberalization has, therefore, facilitated tourism flows and improved people-to-people contacts between the two countries.

Services hub potential
Services also feature in much of the Indian investment that has come to Sri Lanka: ITC Hotel, Taj Hotels, ICICI Bank, Axis Bank, Bharati Airtel, Indo-Ocean Development, etc. Likewise, services have featured in some Sri Lankan investment in India – Aitken Spence has Turiya Chennai Hotel, Bank of Ceylon and Hatton National Bank have branches, etc. Sri Lanka's growing IT services has provided various services to India, for example, the Tamil SMS text for Bharati Airtel was done by a Sri Lankan software company. Already, business process outsourcing and knowledge process outsourcing to Sri Lanka is taking place from the growing IT sector in India.
The potential for Sri Lanka becoming a services hub to India is large. There is a growing automobile industry in Southern India, so much so Chennai is now called the 'Detroit of India' (http://topyaps.com/why-chennai-is-called-the-detroit-of-india). The city accounts for 60 percent of the automobile exports of India and Indian companies like Mahendra, Ashok Leyland and MRF and foreign companies such as Hyundai, BMW, Nissan and Ford have automobile manufacturing plants in the city. Sri Lanka can not only strategically work out some vertical integration to this industry by being a supplier of rubber products and other automotive components but also be a service supplier in the medium term.
Clearly, Sri Lanka is in a position to develop services on these foundations and prospects. During the previous government, five potential hubs were identified as sea port, aviation port, energy, knowledge and retail. The more realistic out of these five hubs are shipping and aviation, the former can be developed using its existing strength and the latter using Sri Lanka's location between Dubai and Singapore as well as its good relations with all countries in the South Asian region. However, development of port hubs cannot be done by developing infrastructure in ports or passing hub-related legislation alone, but should be accompanied by liberalization or opening up the relevant services for foreign entry. As services liberalization has to be accompanied by a suitable regulatory framework, it is prudent to open it first to a few countries with bilateral FTAs. Once the regulatory framework gets consolidated over time more liberalization of services could be considered as per Sri Lanka's comfort level. Needless to say, India will be a good starting point in this exercise given the track record of mutual benefits both countries have enjoyed with whatever unilateral liberalization in services that has already taken place in both countries. The proposed ETCA with India will provide a ruled-based framework to engage in this exercise and it will be designed to provide the maximum gains to Sri Lanka. Small countries can benefit most when trading with large countries under a rule-based framework and that is precisely what the ETCA is proposing to do in the near future.
It is important to recognize that export expansion is essential to meet the country's growth and employment targets and service external debt. This article seeks to demonstrate that there is considerable potential for growth in earnings from services exports to India in areas such as, shipping, aviation, tourism and ICT-enabled services. As a result, Sri Lanka has considerable offensive interests in the Indian market in each of these sectors. There is, therefore, a strong case for the inclusion of services in the proposed ETCA.