---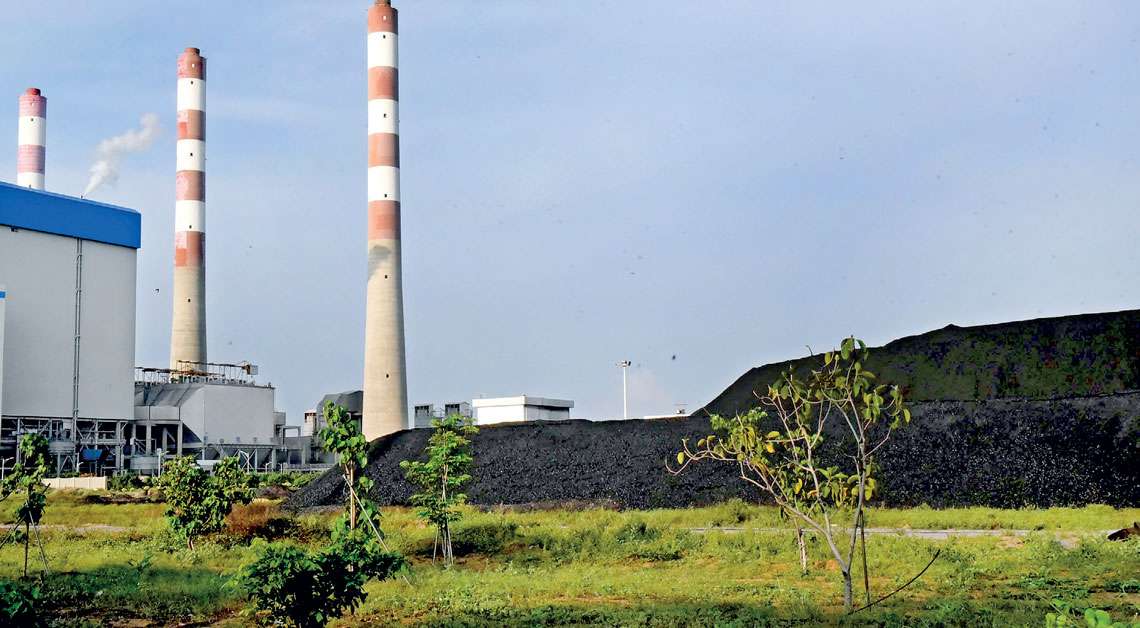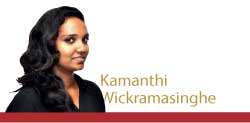 The Lakvijaya Coal Power Plant in Norochcholai has been a controversial establishment ever since its first unit was commissioned on March 2011. The Power Plant, which adds 900 Megawatts to the National Grid through three generators using coal, was constructed at a cost of US $ 1.3 billion. However in January 2018 it was reported that this establishment was operating sans an Environmental Protection Licence (EPL) and according to sources the expired licence wasn't renewed.
Adding to its list of discrepancies are various malfunctioning devices and careless operations including harmful emissions of fly-ash into the air and sea. As a result people in the surrounding areas suffer from skin diseases and conditions such as asthma. While the West is taking measures to move away from generating electricity using coal, Sri Lanka is being funded and equipped by foreign entities to generate electricity using coal power.Hence the Daily Mirror sheds light on how people in the area including fishermen are being affected by the careless discharge of fly ash and the irresponsible transactions initiated by the authorities.
---
We are working within the parameters of the CEA : Ministry
In his comments to the , Director-Development at the Ministry of Power and Energy Sulakshana Jayawardana said that the ESP has been repaired and Unit 1 is in its start-up process. "Once completed, it will be functioning along with the other units. Units 2 and 3 are already functioning and are generating electricity. It's not a huge issue because the flame at the time of the incident and what you see now are quite different. Usually such breakdowns occur in any plant and we have to do frequent repairing and maintenance work to ensure that such incidents don't take place. We are also working within the parameters given to us by the Central Environment Authority and we are always trying to reduce emissions and pollution,"said Jayawardana.
---
Repairs are still going on : NWPEA
Airing his views, Provincial Environmental Authority – North Western (NWPEA) Acting Director Saman Lenaduwa said that repairs are still being done and therefore they have shut down the institute. "They haven't told us when it would recommence. We have sent them a letter and have asked them to shut it down till repairs are complete. Their license too has expired and since there's a case in the Supreme Court they have to renew it," said Lenaduwa.
---
The Incident
Footage of fly ash being spewed into the sea was captured by fishermen and was released on social media. This proved how the power plant is not adhering to its environmental protection principles. The Daily Mirror learns that this incident has been taking place since February 22, 2018, but speculation is rife whether the releasing of fly ash began much earlier, in the month of January this year.
The Electrostatic Precipitator (ESP) being one of the power plant's devices to reduce pollution, each device should remove 300 or more tonnes of dust per day. On the other hand, the Flue Gas Desulphurizer (FGD) is used to remove the sulphur dioxide which eventually contributes to acid rain and both these devices have been malfunctioning for quite a long time. When a malfunction occurs, the 300 tonnes of dust will be released to the sky.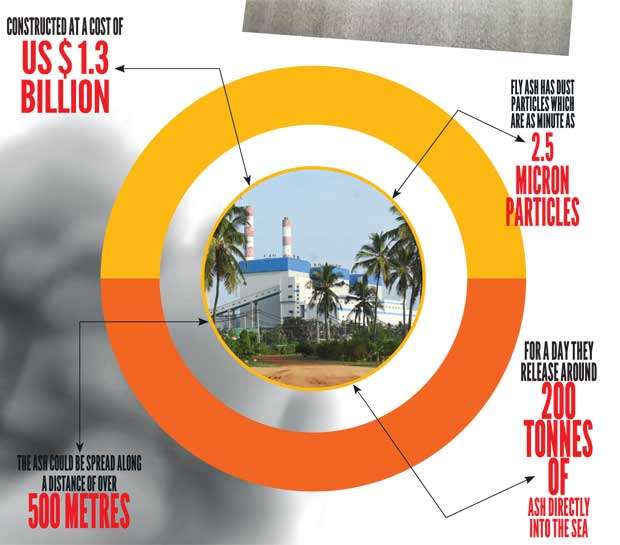 Once the FGD starts malfunctioning, the fly ash will be released into the sea. When the power plant was informed they shut down only on April 12, 2018. On April 11, some fishermen had seen a massive quantum of ash and dirt coming out of the pipes and entering the sea.
It was also found that Unit 1 of the ESP was running below the optimum for nearly one month. It was also found that out of the 16 chambers in the ESP, five of them were malfunctioning by this time and this has been continuing for more than 45 days which is already a violation of the law.
It has been continuing for over 75 days and the fly ash makes everybody suffer. Fly ash has dust particles which are as minute as 2.5 micron particles and can penetrate into the cell membranes of humans as well as animals. It is also carcinogenic and could attack all systems in the body. It also has a higher concentration of heavy metals and this affects vegetation and populations of fish in the area.
Adding to the controversy is the fact that the Lakvijaya Coal Power Plant has also been running without a valid Environmental Protection Licence (EPL) since June last year. Even when one field is broken, the required conditions are not met and are a violation of legal requirements.
---
Solar and hydro power plants are less harmful alternatives : CENS
Speaking to the Daily Mirror Centre for Environment and Nature Studies (CENS) Director Ravindra Kariyawasam said that approximately 15 years ago, 30 coal power plants in Europe were categorized as 'Dirty Thirty'.
"This also affected America because they were the first to generate electricity from coal. Now they are experiencing the harmful effects of coal and China is in the process of getting rid of coal power plants. Several reports addressing the side effects of coal power plants were exposed. The main components in coal are fossils which have been degraded into the Earth that are now being dug up. Therefore coal includes heavy metals such as Cadmium, Mercury, Arsenic and Nitrate. Once coal is being piled up, these heavy metals also get deposited in the Earth and even get washed into the sea during a shower.
The ash could be spread along a distance of over 500 metres depending on the height of the wind passage. In Norochcholai the direction of ocean winds are towards Anamaduwa, Pallama, Thambuttegama, Thabbowa, Anuradhapura and other surrounding areas. Whenever coal is burnt these ash-induced winds are generated and will affect people in the area. As a result they suffer from skin problems and other complications.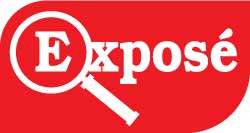 The hot water released from burning coal is released into the sea and this affects marine life. There are five types of turtles in the area and this hot water is spread right throughout the country as there are no barriers to separate this hot water from sea water. It also contributes to global warming,"explained Kariyawasam.
He further said that to generate 300 megawatts of electricity, the power plant emits over 6000 tonnes of sulphur dioxide annually. "For a day they release around 200 tonnes of ash directly into the sea. Another observation is that if you add half a teaspoon of Mercury all organisms would be extinct. In July 2004 I remember thinking why we are in need of coal power plants when Europe is trying to get rid of them. But they do coal mining and have to create a market for coal and for this they identified Norochcholai and it will not stop there.
According to the National Physical Plan there will be two more coal power plants in Trincomalee and somewhere near Aluthgama. We have entered into an agreement with the World Trade Organisation (WTO) to support businessmen and whoever who assumes power will take these projects forward. As alternatives there are solar power plants which people think are green concepts, but they are not as green as people think. This is because they have a battery which could be used for about 10 years and it dies.
This could cause a certain amount of damage, but comparatively, solar power plants cause less harm than others. Three weeks ago, a tile was introduced in Nepal with smaller solar panels. As a result the people generate electricity at home and what is in excess is sold to the Government and they generate an income. This concept is more eco-friendly than coal and nuclear power plants. More than 60% of companies need electricity and this requirement is fulfilled through these power plants. Sri Lanka receives sunlight in abundance and we could use this as an opportunity to generate solar power. We also have the ocean around us and we could use these waves to drive turbines and generate electricity.
But in this case the Ceylon Electricity Board would have less profits. These people claim that because these coal power plants have been designed according to older methods, there are more harmful side effects. When they started Norochcholai they said they would use a micro-method to generate electricity, but this doesn't stop the ash from spreading into the atmosphere," added Kariyawasam.
---
Fishermen and farmers opine
The fishermen and farmers in the area have been affected for the past 10 years as the sea has gotten polluted with the waste that's being spewed by the power plant. This has resulted in the reduction of fish and affected their businesses. At the onset of this incident the visited Kalpitiya and spoke to few fishermen, farmers and people in the area.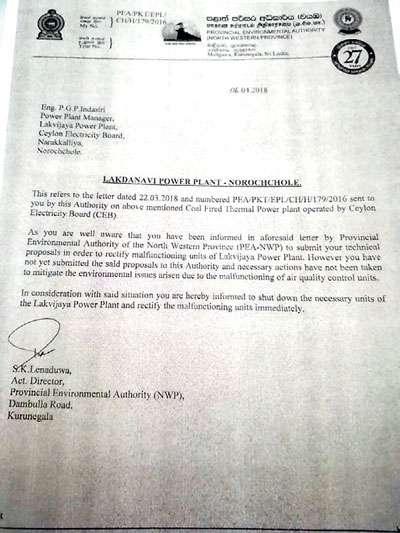 In a letter sent to the Norochcholai Coal Power Plant (see document on top), the North West PEA office has requested them to submit necessary proposals and documents to minimise pollution. Having failed in doing so, the NWPEA has requested the Plant to shut down necessary units and rectify the malfunctioning units immediately. However the Daily Mirror also learned that they have been continuing operations amidst such a backdrop, ignoring the requests from authorities.
Pics by Kithsiri De Mel