---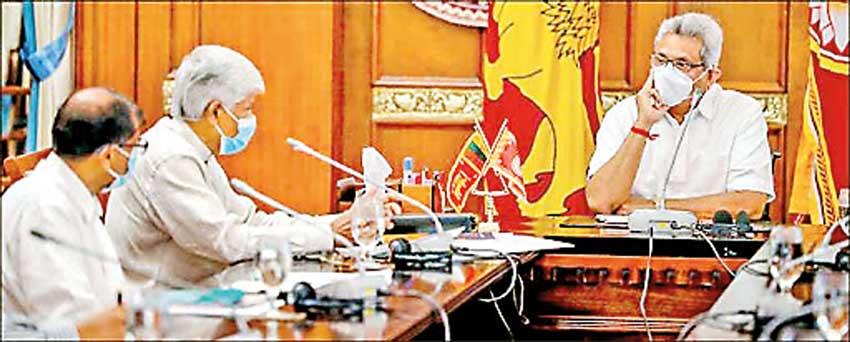 Pathfinder Foundation Chairman Bernard Goonetilleke presents President Gotabaya Rajapaksa with a report containing a set of action-oriented recommendation. Lakshsman Kadirgamar Institute of International Relations and Strategic Studies Executive Director Dr. Ganeshan Wignaraja and members of the study group are also seen
The Pathfinder Foundation (PF) recently presented a report to President Gotabaya Rajapaksa, Prime Minister Mahinda Rajapaksa and Special Envoy of President and Chairman of Task Force on Economic Revival and Poverty Alleviation Basil Rajapaksa, containing a set of action-oriented recommendations from an eminent persons study group, aimed at steering Sri Lanka into a post-COVID-19 era of economic recovery.

The PF in its report suggested that Sri Lanka's overall focus of economic policy should be on mitigating the hardship of the people, moving towards restoring economic stability in the short run and improving the investment climate for business. In practical terms, this means improving food security and livelihoods by modernising agricultural systems and well-targeted social protection. It also means doing whatever it takes to find the monies for debt payments and financing social welfare.

Furthermore, it means cutting red tape and promoting digitisation of public services to allow the private sector to diversify and to create jobs. Finally, it means better institutional coordination for implementing economic policies and development projects.

The study group was chaired by Pathfinder Senior Fellow and former Central Bank Governor Dr. Indrajit Coomaraswamy. Dr. Sisira Pinnawala of the University of Peradeniya Sociology Department and Lakshsman Kadirgamar Institute of International Relations and Strategic Studies Executive Director Dr. Ganeshan Wignaraja served as the principal authors for this initiative.

The other members of the study group included 20 leaders from academia, research and the private sector, including Prof. Sirimal Abeyratne, Dr. Sujata Gamage, Dr. Dileni Guawardena, Prof. Ariyaratne Herath, Prof. Saroj Jayasinghe, Prof. Mallika Pinnawala, Prof. Rohan Samarajiva, Krishan Balendra, Nimal Cooke, Sheran Fernando, Diren Hallock, Jiang Houliang, Murtaza Jafferjee, Mohamed Mushin, Ashroff Omar, Arun Pathak, Suren Ratwatte and Dr. Hans Wijayasuriya.

Following is the first section of the report. You can read full: https://bit.ly/2AIMgG2.
1. The global economy is facing a deep contraction.
The nature of the COVID-19 crisis is unprecedented as it entails both a public health emergency and a global economic shock. The International Monetary Fund (IMF) World Economic Outlook 2020 (released on April 14, 2020) projects that the global economy is likely to fall sharply by -3 percent in 2020, far worse than during the 2008-2009 global financial crisis. Its impact could be as devastating as the Great Depression of the 1930s with 25 percent unemployment in developed countries.

Worryingly, the economic outlook in 2020 for the US, European Union (EU) and UK looks negative. Asia may do a bit better in 2020 with positive but historically low growth in China and India but Japan may be hit hard. It is noteworthy that the Chinese economy contracted by 6.8 percent in 1Q 2020 and the IMF forecasts annual growth to decline from 6.1 percent in 2019 to 1.2 percent in 2020. Furthermore, job losses in the US amounted to over 20 million during the last three weeks.

A crisis of this magnitude is not going to be reversed quickly. Realistically, the global economy may only reach some kind of 'new normal' growth, helped by massive policy support and when a vaccine is available (in some 12-18 months). The speed of recovery globally may not be uniform across regions, countries and sectors. Sri Lanka's pathway of global integration should take account of this to maximise opportunities while minimising potential adjustment costs.

2. The Sri Lankan economy is likely to face a challenging economic outlook.
The evolving economic scenario for Sri Lanka could unfold to be even worse than the most difficult time during the 30-year civil conflict. Sri Lanka's growth in 2020 will be less than the historically low rate recorded in 2019.
The IMF WEO 2020 projects -0.5 percent growth in 2020 (down from 2.3 percent in 2019). Moreover, a V-shaped recovery in Sri Lanka in 2021 seems doubtful, given many domestic and international risks and uncertainties; a more likely outcome seems a U-shaped recovery with a period of flat growth.

Overall, the focus should be on protecting human life, constructing a bridge to restore economic stability in the short run and laying a sound foundation for robust, sustainable and inclusive growth in the medium term. These were the parameters for the work of the study group.

The highest priority is that the hardship of the population should be mitigated to the extent possible. The sharp economic downturn coupled with a slow recovery implies a growing risk of mass unemployment and rising poverty in Sri Lanka. This would cause misery to the population and have devastating social consequences. Domestically, there could also be significant financial strains from the overstretched public health system and payments to the poor and vulnerable.

A second priority must be attached to building fiscal and external reserve buffers to increase resilience by de-risking the economy going forward. As a small relatively open economy with twin deficits, Sri Lanka is being severely affected by this exogenous shock. The lack of fiscal space is constraining the capacity of the government to respond. It is channelling mitigation measures through the Central Bank of Sri Lanka (CBSL) and domestic
financial institutions.

At this perilous juncture, the authorities need "to go big" in terms of borrowing domestically (including from the CBSL) and from official development partners to overcome the lack of fiscal space. Such borrowing should be strictly allocated to fund social protection and productive investment.

The effects of the global output collapse are being transmitted to Sri Lanka through falling demand for exports, capital outflows, falling remittances, a halt in tourism and a loss of business confidence. High external debt payments denominated in US dollars amidst dwindling reserves complicate the external economic landscape in Sri Lanka.

A third priority is that the investment climate needs improvement so that the private sector can restructure businesses to reap new opportunities and to create jobs. The COVID-19 pandemic has led to the closure of a large swathe of the economy. This has had an unprecedented impact on economic activity resulting in widespread disruption of livelihoods and businesses, large and small.

Given the binding fiscal constraints related to the solvency of the country and the current constitutional limitations, which constrain fiscal space, it is recommended that these firms are granted concessional loans guaranteed by the government/CBSL based on credit lines from the international financial institutions. Urgent priority should be attached to this to avoid massive job losses.

3. The government's initial response was useful to support the Sri Lankan economy.

The government took steps to support the Sri Lankan economy in the aftermath of the COVID-19 pandemic. These include: various fiscal and monetary stimulus measures, banning inessential imports, seeking financial assistance from important donors, assistance for selected sectors and establishing a new special deposit bank account for foreign exchange remittances. These are important building blocks in the formulation of a strategic approach to the COVID-19 crisis.

4. A refined strategy offers the best chance of resetting the Sri Lankan economy and building its resilience.
Most economies and companies globally are fundamentally reorienting their economic strategies in response to the COVID-19-induced economic crisis. Sri Lanka can draw lessons from its own past and international experience to formulate a new economic vision for a post-COVID-19 economy.

The refined strategy should be pragmatic and non-ideological in nature. It should draw lessons from the low growth, muted investment, high unemployment and black market prices associated with the inward-looking policies of the 1970-77 era as well as the increased vulnerability to external economic shocks, climate risks, increased inequality, reduced social protection and pandemics of the period since the opening up of the economy in 1977.
The refined strategy should also exploit all Sri Lanka's factor endowments and the skills of its people. Finally, it should leverage the advantage of a strategic geographical location and a friendly non-aligned foreign economic policy towards a range of countries and
international institutions.

In recent decades, influential voices have argued that the role of the state in managing the economy should be downsized. However, the COVID-19 pandemic demonstrates that when societies face massive challenges, it is only the state that has the capacity to respond effectively.

In a world where climate-related natural disasters and health pandemics are becoming more frequent and intense, action needs to be taken at the national, regional and multilateral levels to create the institutional capacity and financing mechanisms to deal with sudden and unforeseen threats. Sri Lanka has an institutional legacy, which can be modernised for this purpose.

However, careful consideration should be given on resetting the role of the state in the new normal of the post-COVID-19 world. It should be calibrated in such a way that inefficiency and corruption are minimised and the role of the private sector as the primary engine of growth and wealth creation is not stifled.

All countries would need to adjust to a more regional and local approach in a post-COVID-19 world. In this changed world, each country would need to develop its own social contract and formulate its development strategy autonomously. In doing so, the highest priority must be attached to making pragmatic policy choices based on a rational assessment of costs and benefits rather than on vested interests and ideological biases.

5. In operational terms, it is helpful to think of the refined strategy in two phases.
These are: (a) immediate actions to stabilise the economy (over next two to three months) and (b) items to reform the economy (beyond three months into the medium/long term). A mix of macroeconomic, structural, pro-poor and climate-friendly economic policies is required to build a post-COVID-19 Sri Lankan economy. These are outlined in the policy matrix below. It is also vital that such policies are properly coordinated and monitored.

It is suggested that a task force of officials be appointed under the President's Office mandated to assess the economic damage caused by the COVID-19 pandemic and to develop these ideas into an actionable national economic strategy. They could be assisted by a multidisciplinary advisory group of experts, who could provide technical advice and help with
monitoring outcomes.

Establish a committee of secretaries of development ministries, chaired by the secretary to president, to improve consistency and predictability of policymaking as well as priority-setting and co-ordination
for implementation.