---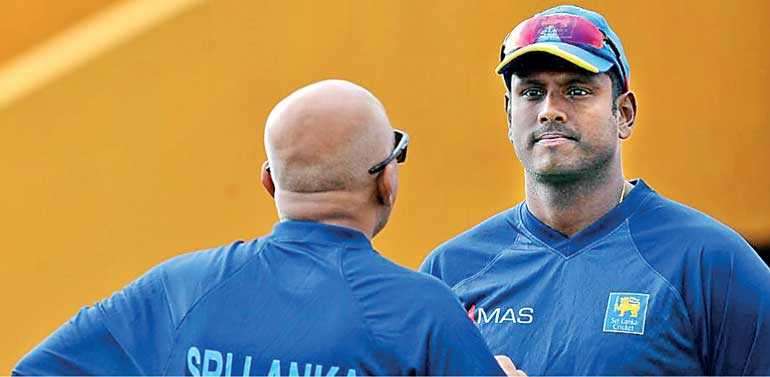 by Champika Fernando
Cricket in Sri Lanka is in crisis. The signs of decline are omnipresent. They are alarming. On the field, Sri Lanka, who reached five World Cup finals from 2007 to 2014 while also winning one, were eliminated from this month's Asia Cup even before India started their campaign.
The defeats to Bangladesh and Afghanistan by skipper Angelo Mathews' own admission are "embarrassing"'–not because of whom we lost to, but how we lost. For a team endowed with natural talent, it must be as frustrating as it is for the fans that have come down hard on their heroes on social media.
For many years, the Sri Lankan team was a world class fielding unit. At the Asia Cup, however, we had what must've been the worst fielding unit to represent this country in recent times. Ground fielding and catching looked barely first-class standard, not forgetting running between wickets. While other teams looked to convert ones into twos and twos into threes, Sri Lanka was satisfied with the minimum. There was no energy, no urgency and no desire to succeed. Such is the depths they have fallen to.
The Sri Lankans struggled to bat through their full quota of overs both times in the tournament. This, however, is not a new problem. It is something they are yet to fix since 2017, one that has been largely responsible for Sri Lanka's limited over slide.
The current national team is likely the first in many years that do not possess a world-class player. Critics could argue that Sri Lanka had the luxury of at least two of them: Lasith Malinga, a feared seamer in limited over cricket; and Angelo Mathews, possibly the best batsman in the current squad. But the both seem to be past their prime.
Russel Arnold has been critical on the country's performance lately
Thirty-five-year-old Malinga returned with a bang, picking up four for 23 in the team's opening loss to Bangladesh. He didn't, however, show the same venom against Afghanistan just a day later. He has still been picked for the series against England. But what if he fails against the high-riding Englishmen at home? Will we waste time again in finding a replacement with the World Cup barely nine months away? Or take him into the World Cup regardless of his performance?
Mathews, on the other hand, has paid the price for everyone's sins. First, when he refused to take full responsibility for the Asia Cup exit and bow out, he was sacked from the captaincy. Then, he was removed from the ODI team that will face England at home. The excuse given was fitness issues.
"When you have a team in transition, it's difficult," said commentator Russell Arnold. "And this is when you need your senior players, the core players, to stand up and perform. Sri Lanka has not been able to get that as much as they would like to."
"Angelo Mathews has been great to an extent, but he has not been able to get those big scores everyone else can build on," he observed. "If you take India during their rebuilding phase, Virat Kohli took control. He scores those hundreds. So for us to find the starting point, the pride and desire for player to be out in the middle should be there and I am looking to that as a starting point."
No doubt, Mathews failed as a leader. His sacking was expected. A year ago, he rightly stepped down to allow Sri Lanka to groom someone leading up to the World Cup. But six months later, the coach and the selectors wanted him back despite knowing his high susceptibility to injury.
Mathews trusted Chandika Hathurusingha, a man he worked closely with during his early international career. But he now feels "betrayed and let down" after full blame for the debacle fell on his shoulders.
"The team looked flat," said Arnold, referring to Mathews' leadership. "For the last one-and-a-half years, I have been saying that Angelo Mathews is not my captain. From my point of view, we just wasted a few months."
Mathews must take some responsibility. But about those that call the shots behind the scenes? Those who set strategies and try to fit in players rather than make plans based on the strengths of the resources available?
The head coach who thought Kusal Mendis would be a better opener than Niroshan Dickwella or Kusal Janith Perera to kick off the batting in UAE? The man who thought Dilruwan Perera could make a comeback and help Sri Lanka win the title after 18-months of being on the sidelines? The man who chose to play half-baked allrounders in the side rather than strengthening its batting, the weakest link of all?
The man who wanted Angelo Mathews to come back to lead the side, rather than grooming the next leader well in time for the World Cup? The man who gives mixed signals to players rather than letting them play their natural game. The man who has shuffled the batting order like a pack of cards, looking for that competitive advantage against oppositions? The man who wanted the manager out of selection on tour? The man who has failed to instill discipline among players?
"There was a fear of the coach and a lack of confidence in the leadership," one insider said, when asked about the poor results during the tour. "This was a big issue within the team. The other one was the fitness levels of many players which we saw during the two games we played."
And what of the other support staff that include a batting coach, fielding coach and two fielding coaches? Will they take responsibility for failures in each department? What about the accountability of selectors and other players in the side? Will they share the blame instead of heaping it solely on the captain? These are some of the questions being asked in the wake of recent debacle.
Hathurusingha did wonders for Bangladesh. But will the same mantra work for Sri Lanka cricket, where a flawed domestic structure no longer produces world class players. This has been a major point of discussion for many years now, but there has not been a meaningful effort by administrators to overhaul the system allowing a smooth transition of players into the big league. The problem in Sri Lanka, therefore, runs deeper and is linked to an outdated system of first class cricket and endless administrative bungling. Even today, the Board is in crisis. There's no elected body to run it; only a political appointee with no cricketing background.
"There is no hiding the fact that there are issues like administration, but I think players should at least play for their personal pride, be selfish and put on a show," Arnold said. "It will make a difference to this team."
"Where is that pride is the question," he mused. "We have had far too many issues. We have had suspensions, injuries and inexplicable behaviours. When you look at all of these together, it's very concerning and disappointing."
Things cannot be continued the way they are. That is clear and if Sri Lanka don't fix the issues at hand and bring stability and consistency to once a proud cricketing nation, we will soon be competing in lower leagues.