---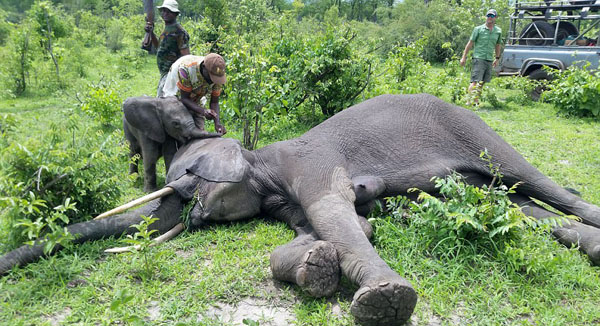 This is the adorable moment a baby elephant clung to his sedated mother after being rescued from a pit in Zambia
Vets had been forced to knock the mother out as they rescued her calf from a man-made pit in South Luangwa National Park because she was so agitated.
Once the calf had been lifted to safety he ran over to his mother and clung on to her ear with her trunk until she could be revived.
Villagers were alerted to the baby's plight after hearing the mother's cries, and called rescue workers to the scene.
Vets arrived the following day to find both animals very distressed, having been struggling at the pit all night.
As vets were administering drugs to bring the mother around, the calf walked up alongside them and place a tender trunk on her mother's ear.
Rachel added: 'She got a bit defensive for a minute when we put her down and then decided our vet was helping and wouldn't leave him alone.
'The baby did not mind Dr Sichande administering the antidote in his presence and ended up getting in the way trying to help.
'We reversed the mum with the antidote and as soon as she started to get up the baby suckled immediately.
'She must have been really hungry from all night in the pit. Everyone then happily wondered off.' (Daily Mail)