---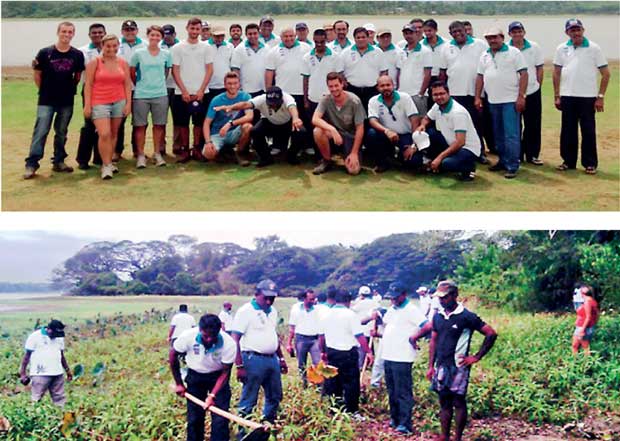 Pictures above show the executive and management staff of Somapala & Co (Pvt) Ltd, Kamal Cables (Pvt) Ltd and Kamal PVC Industries (Pvt) Ltd jointly participating in the tree planting CSR programme in the Bathalgoda tank vicinity


The executive staff, senior management and directorate of Somapala & Co. (Pvt) Ltd, Kamal Cables (Pvt) Ltd and Kamal PVC Industries (Pvt) Ltd joined forces in coming together to embark on a massive tree planting campaign recently.

This was conducted along with the Rotary Club of District 3230, the Rotary Club of Ibbagamuwa and the '1 Million Tree Stories Campaign' initiated by Hatton National Bank. The trees were planted in the catchment area of Bathalgoda tank, Ibbagamuwa in the Western Province under the theme "Plant a Tree – Save the Planet"

A total of 3,000 indigenous plants and seedlings were planted by the staff in order to establish protected forest patches that help offset the build up of carbon dioxide and enhance the eco system of the area. This was part of their corporate social responsibility campaign which aims to reduce the carbon foot print of the Group of companies. Kamal Kodituwakku, Chairman/Managing Director of the Group had this to say – "We are living in a period of history when we ourselves have done irreparable damage to the environment. It is time we seriously begin to give back to nature for the sake of our future generations".

The management of the three companies have decided that the future tree planting campaigns will involve the local communities and local authorities as they too should take ownership and responsibility in protecting and preserving the environment.