---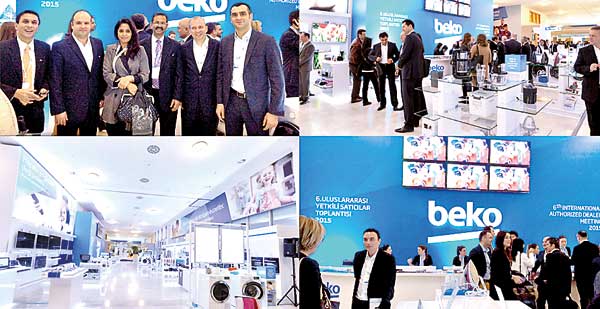 Beko, the global brand of Arçelik A. S., hosted 1240 authorised dealers from different corners of Turkey and the globe at its 6th Annual Beko Authorised Dealers Meeting in Istanbul, Turkey recently.
The 2015 event marked the brand's 60th anniversary. The Beko brand has captured the highest growth rate in Europe for seven consecutive years, and maintains its successful position as the second largest white goods brand in Europe, with an unprecedented 10 million units sold in 2014. In the same year, Beko proudly signed an agreement as the premium partner for Spanish football club FC Barcelona as well. Singer is the sole distributor for Beko in Sri Lanka.
Arçelik A.S. is a Turkish Fortune 500 Company which markets its products on the global platform under the brand name BEKO. Established in the 1955, its 60-year history includes a proven track record of continuous growth and innovation of home appliances and consumer electronics within Turkey, and the global market. Beko distributes products to consumers in over 100 countries worldwide, and its product portfolio includes washing machines, refrigerators, ovens, hobs, hoods and dishwashers.
Apart from presenting dealers from over 100 countries with an ideal opportunity for networking, knowledge building and idea generation, the event's agenda included presentations of the brand's performance, a wealth of new market information and an insight into the organization's future plans. The company also presented its upcoming cutting-edge product portfolio for the year ahead.
Mahesh Wijewardene, Director – Marketing and Commercial noted that "it was an honour to attend the Beko Authorised Dealers Meeting in Turkey. Singer is proud to be the sole distributor and authorized service partner for Beko in Sri Lanka. We launched Beko in Sri Lanka in 2012 with an impressive array of world-class products, and the response was phenomenal, with tech-savvy Sri Lankan consumers embracing the brand's sophisticated designs and superior innovations."
Arçelik has strengthened its investments in Southeast Asia by laying the foundation for a refrigerator plant in Thailand. Backed by state-of-the-art, flexible production facilities, strong R&D capabilities and amazingly talented staff, Beko has been successful even in the world's most competitive home appliance markets. In Sri Lanka, Beko refrigerators, ovens and washing machines are the fastest moving categories, and Singer is confident that the brand's popularity among Sri Lankan consumers will increase exponentially in the future.
With its 160-year heritage, Singer's brand strength is unmatched in Sri Lanka. Its resonance in the hearts and minds of Sri Lankan customers is driven by its in-depth and comprehensive insight into local consumer trends and requirements. This partnership with Beko stands testament to Singer's understanding of the ever evolving lifestyle needs of its local consumer base, and its efforts to provide these customers with world-class, top-of-the-line products and services.