---
Can you think of anything better that a working person needs to keep in good health than a Philips Airfryer that cooks tasty favourite foods and even complete meals without oil? It has been medically proven that oily food is one of the prime causes of cardiovascular diseases. Globally, cardiovascular disease is the leading cause of death and it has been projected to remain so. With so many risk factors involved, cutting down on oily food is one of the simplest ways to lower the risk of having a heart disease.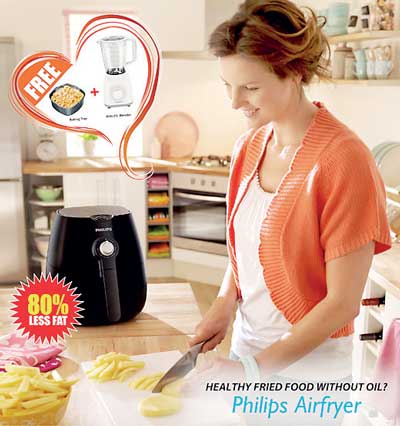 The Philips Airfryer is a simple way to reduce the risk of heart disease by consuming food that has less oil and fat content, and still enjoy eating favorite fried foods. It's the best product in the market for oil-free food with a patented "Rapid Air Technology."

The Philips Airfryer is the new revolution in home cooking, which does not require oil in the cooking process, allowing you to fry, bake, toast and grill a variety of great tasting dishes without oil using Philip's innovative Air Technology. The Sri Lanka Independent Medical Practioners Association has no hesitation in accepting that the Philips Airfryer has a tremendous impact on your good health and well-being.

Now you can prepare your favourite Sri Lankan curries such as Dhal, Malu Ambul Thiyal, Batu Moju etc, and also make Pizzas, Pastries, Fish Buns, Cutlets, Cakes, Sweets and other delicacies in the Philips Airfryer without any oil, from Chicken Wings to French Fries, and even local delights like curry puffs, roti and parata. The Airfryer makes it easy to enjoy hearty home-cooked meals with fried dishes that contain less fat.

Replacing the need for oil with air, Philips Airfryer boasts of a patented rapid air technology, which combines fast-circulating hot air with a grill element to create great-tasting fried food that contains up to 80 percent less fat. The innovative appliance also comes with an integrated air filter that prevents unwanted cooking smells and vapors.

It also has an adjustable temperature control that lets users pre-set temperatures of up to 200 degrees Celsius, helping families cut down food preparation time immensely and still produce crispy and evenly-cooked fried food. It also requires minimal heat-up time and can quickly and easily prepare the best tasting fries without oil, in as little as 12 minutes.

This also allows busy housewives to whip up delicious fried food quickly and hassle-free without the mess associated with traditional frying methods. It's simple to use, wash and store and its dishwasher safe parts and non-stick surfaces can be easily cleaned. It is also highly energy efficient due to its rapid cooking time; eg normal oven takes 1 hour to bake a cake while the AIR fryer takes only 20 minutes. The Philips Digital Airfryer has a larger cooking capacity of 1.2 kg which can feed a family of up to 5 people or more. It has a digital screen for easy control of time and temperature more precisely. It also has a smart preset button where your mum can save the settings for her favourite, regularly cooked dishes.

The Philips Airfryer is available from all Abans Showrooms and authorized dealers islandwide. It comes with a free recipe book, which guides and provides inspiration to spice up mealtimes at home, together with culinary tricks and handy time-saving tips for the best results with the appliance and a free baking tray and a blender.