---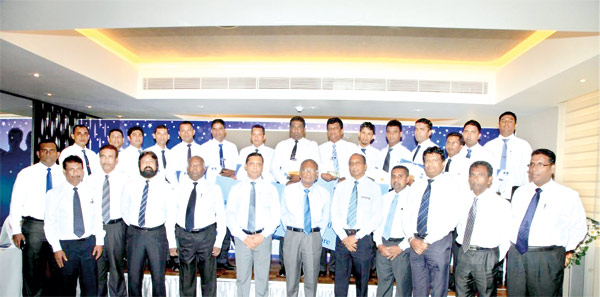 Central Industries PLC., manufacturers and marketers of renowned National PVC pipes and fittings, recently held its Annual Sales Performance Review and Star Awards Ceremony at a grand event.

The performance of the company's sales force during the financial year 2014/2015 was reviewed at this event and the best performing members were duly rewarded for their commitment to excel in promoting its portfolio consisting of National PVC pipes and fittings, Krypton switches and accessories, Hitachi power tools and accessories and Aquatec taps and accessories.

With its remarkable growth of sales and the expansion of the distributor and dealer network, Central Industries PLC is gaining further market share in both corporate and domestic sectors. The strategic marketing and sales approach adapted by the company particularly in its dealer network made a tremendous contribution to the marked growth of sales that the company recorded during the last financial year.

Furthermore, continuous research, development and innovation together with improved design of its products as well as the highly reliable service the company offers have also contributed to its success.

Established in 1984 as a member of the reputed Central Finance Group of Companies, Central Industries PLC is a public quoted company listed in the Colombo Stock Exchange. National PVC pipes and fittings, the company's flagship brand, is widely accepted as the first choice of quality and reliability by the professionals in the construction industry and the domestic market. The highest standards maintained in product innovation, design and manufacturing has made National PVC the most trusted brand of PVC pipes and fittings in Sri Lanka. It is the first brand of PVC Pipes and Fittings in Sri Lanka to be awarded the coveted ISO 9001:2008, a certification that has now been re-certified for 19 consecutive years. Furthermore, National PVC pipes and fittings were the first to obtain SLS 147 and SLS 659 Standards.

The product range of National PVC pipes and fittings are used in a number of industrial applications ranging from residential plumbing to complex agricultural, national water supply and drainage projects. Central Industries pioneered the manufacturing of Stainless Steel storage tanks, ideal for storing water, oil or chemicals in industrial applications, ensuring the highest standards of hygiene.

Additionally, its renowned Krypton electrical accessories range ensuring highest quality and safety standards are being extensively used in household and electrical installations winning the trust of the recognised professionals in the industry.