---
Celebrating its 25th anniversary, idac Pvt. Ltd., authorized dealer and distributor for Daikin Japan, passed yet another significant milestone in its journey of continual growth in the industry. In keeping with its corporate mission, idac relentlessly endeavors to satisfy all its consumers' needs by providing them with a range of distinctive products and services to the corporate and domestic sectors for small and large projects.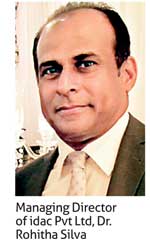 During the past 25 years of existence, idac has successfully gained credibility and made a trustworthy name for themselves in lieu of their excellent sales and promotion agency system. The local staff serving as sales & distribution agents have been able to introduce a variety of Daikin Air-conditioner models to the market that have the distinction of being the No. 1 brand in the world of air- conditioning.

The Daikin organization has strategically incorporated the latest technology and energy saving techniques into its products which have captured the Sri Lankan market; in addition to its unbelievable prices.

ISO certified idac Pvt. Ltd., during its 25 years of progressive enhancement, has been able to provide their customers with durable and reliable air conditioning equipment, through a systematic sales network. Idac has been associated with ACSON and McQuay who are members of the Daikin Group for the past 25 yrs. Having an efficient team of professional factory-qualified engineers and technical staff in addition to highly effective sales and marketing personnel, idac has been able to carry out a vast number of successful projects.

Looking back at what helped to sustain the company's growth during the last twenty five years, Managing Director of idac Pvt. Ltd. Dr. Rohitha Silva stated, "Our strength has been the confidence placed by our Principals in our ability to meet their aspirations and goals for Sri Lanka. We've also been fortunate to have talented people at all levels of the organization who have challenged themselves to manage the increasingly complex requirements of our customers."
idac Pvt. Ltd. together with its Management team extends its sincere appreciation to its loyal customers for their continued trust as well as the Technical team and Staff of the company for their dedicated service for the past 25 years.