---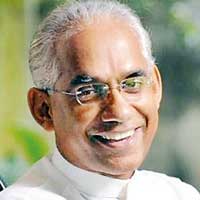 3Highways and Investment Promotion Deputy Minister Eran Wickramaratine yesterday called for the immediate dissolution of Parliament, as the present Parliament has outlived its mandate by disrupting President Maithripala Sirisena's programme endorsed by the people on January 8.
He stressed that the political and social consequences of such a Parliament is grave and the uncertainty it creates will have dire economic consequences.
"The only way out is for the people to be given the chance to decide on the alternative proposals put forward by the political parties and on suitable candidates to carry out that programme."
He said factions of the UPFA went against the wishes of the people by diluting one of the most important features that would have made the 19th Amendment more meaningful for the people.
"Factions of the UPFA diluted the Constitutional Council to include a majority of MPs on the council, completely nullifying the intention of setting up an independent Constitutional Council in the first place.
This is the same party that proposed the 17th Amendment with a Constitutional Council comprising a majority of non-Members of Parliament," Wickramaratine charged.
He noted that if the current Parliament reflected the mandate of the people given on January 8, the outcome would have been different.
However, according to Wickramaratine restoring the two term limit, restricting the President's discretion to dissolve parliament from one year after election to 4.5 years and limiting the cabinet to 30, were a few of the freedoms gained by the people though the 19th Amendment.