---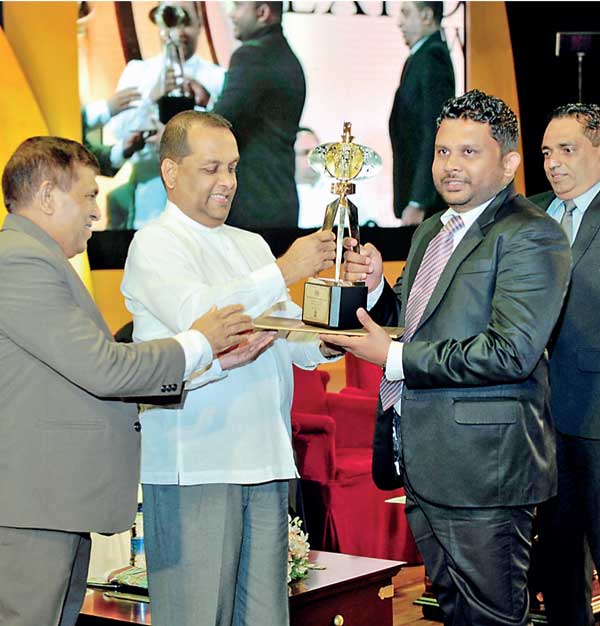 Accepting the award for year 2014 by Finance Manager Yohan Buddhika on behalf of Tropic Fishery (Pvt.) Ltd
Tropic Fishery (Pvt.) Ltd was crowned as the Highest Value-Added Exporter of the Fish and Fisheries Product sector - year 2014 and 2015 at the Presidential Export Awards organised by the Sri Lanka Export Development Board recently.

Tropic Fishery (Pvt.) Ltd, the leading Sri Lankan seafood processor, has been successful in securing reputation for exporting high-quality, internationally renowned seafood. Tropic Fishery received this award as it contributes to elevate the country's domestic economy by mechanism of value additions for their products.

By earning huge foreign revenue and generating new jobs, it executes a commendable service to the country's economy. This presidential export award will be a fuel for it to expand its services, which are bound with sectors such as packaging and printing with value additions.

"We are very pleased as a group on this significant achievement especially as it comes at a time the industry is going through a hard time. We expect to earn more profit from the international market by increasing our exports. Our aim is to provide a professional and efficient service in meeting our customer's need for quality and consistent supply of fishery product only sourced from sustainable resources. Our products are fine quality seafood and we in partnership with our customers ensure their customers a guarantee of freshness and quality from ocean to plate," Tropic Fishery Executive Director/CEO Roshan Fernando said.

Tropic Frozen Foods (Pvt.) Ltd was established in 1984 and Tropic Fishery (Pvt.) Ltd was established in 1996 as the fishing arm of the Tess group of companies. Tropic Fishery (Pvt.) Ltd was Sri Lanka's first standardized fish processing plant approved by the Fisheries Department for processing fish and fishery product.

In 1996, Tropic Fishery launched Sri Lanka's first exclusive long line fishing vessels and Tropic Fishery deep-sea fishing company was established. Tropic Fishery pioneered Sri Lanka's renowned yellow fin tuna industry. Almost three decades later, Tropic Fishery, the pioneer still remains the leader and is the largest chilled tuna loin processor and exporter from Sri Lanka to date. 'Tropic Sri Lanka' is internationally synonymous with seafood products of the highest quality.