---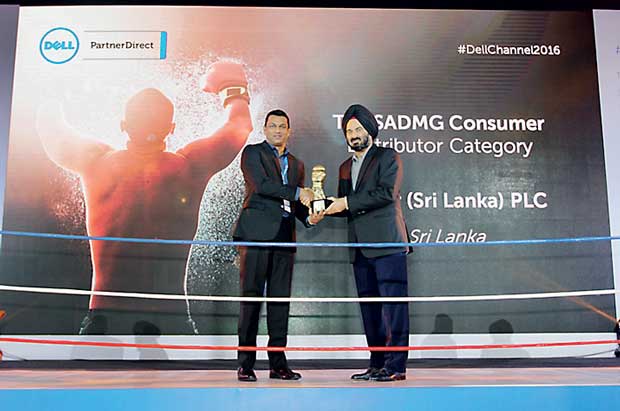 Director Marketing & Commercial of Singer Sri Lanka Plc Mahesh Wijewardene receiving the coveted Top Consumer Distribution Partner award from Harjeet Rekhi, General Manager of South Asia Developing Markets Group, Dell
Singer Sri Lanka PLC, the country's premier consumer durables retailer, won the most coveted award for the Top Consumer Distribution partner in the South Asia Developing Marketing Group at the Dell South Asia and Korea Channel Summit 2016 held recently in Manila, Philippines.
The award is granted to top consumer and retail partners across the South Asian Developing Marketing Group (SADMG) countries and are selected based on their revenue, commitment and the overall contribution for the region and Singer was the only Sri Lankan company to receive this award at the Dell South Asia and Korea Channel Summit 2016.
Singer partnered with Dell in 2014, and within the first phase of operations SINGER managed to demonstrate a rapid growth in Dell sales resulting in increasing its overall market share in Sri Lanka.
Director Marketing & Commercial of Singer Sri Lanka Plc Mahesh Wijewardene said, "This accolade once again reiterates the strength of Dell brand and Singer Sri Lanka's strong distribution network coupled with its island's best after sales service network and the unique offerings including promotions that made Sri Lankans to experience through Singer. We are indeed proud of this top Regional achievement and we will continue to introduce the very best Dell offering to Sri Lanka".
The South Asia and Korea Channel Summit 2016 is one of the most engaging regional events for all Dell channel members and Singer holds the honor to represent Sri Lanka and the loyal customers both in the consumer and retail segment. The event, In addition to recognizing Dell's performers for the year also discusses the global IT giant's strategic direction and its future plans for the region.
Roshan Nugawela, Country Manager for Dell - Sri Lanka and Maldives, commented "I would like to congratulate Singer Sri Lanka on this great achievement. The partnership between Singer and Dell for over one and a half years has brought in superior offerings to all parts of the island, backed by the trusted excellence of Singer. It is because of committed partners such as Singer that Dell has grown exponentially in Sri Lanka over a short period to become the leading PC brand in the local market for three consecutive years as per data released by the IDC. We look forward to many more achievements and milestones together with Singer to strengthen our services to our loyal customers".