---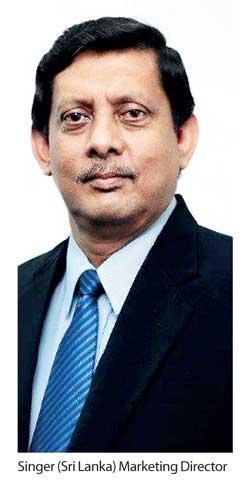 Best brand of the country for the 11th consecutive year, Singer Sri Lanka presents the Life Style Exhibition and Fun Fair 2017, a most prominent event of Sri Lanka to be held for the seventh consecutive year at the BMICH from 24th to 26th November from 10:00a.m. to 9:00p.m.

Customers are privileged to experience the latest technology of over 50 world famous brands under one roof apart from several local brands like Singer, Sisil
and Unic.

World renowned electronic brands like Samsung, Sony, Hitachi, Sharp, TCL, Skyworth, home appliance brands such as Beko, Tefal, Moulinex, Kenwood and Prestige, and world's top smart phone brands like Huawei, Samsung, Sony and also computer brands like Dell and many other prestigious brands will be showcased and product launches particularly of brands like Apple could be experienced during the exhibition. Product variation along with brand diversification could be experienced and attractive discounts and special rates for the brand new products are also offered on all three days.

All day long cookery demo's presented by celebrity chef Don Sherman and Sujeewa Vithana, raffle draws, games and other kid's events will guarantee to keep the whole family entertained all day. There will be attractive performances by popular bands and other veteran artists to offer a high quality entertainment experience all day. The family oriented exhibition is certainly not restricted to technological enthusiasts but also caters to all household needs of housewives, students, entrepreneurs and all other customers representing all segments of society.

Life Style Exhibition and Fun Fair is an extraordinary event developed gradually from its birth in 2011 up to now. Product variation is at its intense where over 1500 product availabilities are assured from all household appliances to industrial goods such as industrial sewing machines.

Singer (Sri Lanka) Marketing Director Kumar Samarasinghe spearheading the exhibition, shares his opinion on the event: "The Singer Life Style Exhibition and Fun Fair originated seven years back has grown over the years into an outstanding timely event held just before the festive season.

The company is greatly honoured to identify that the customer attraction to the exhibition is no more restricted to the local customer base but it has managed to attract the tourists around the globe who visit our country. I invite all our customers to live out your dreams through experiencing the superior products, best brands along with the unmatchable offers."

It is also worthy to highlight that the collection of the entrance ticket would be utilized for a valid cause. Singer Sri Lanka, in executing its Corporate Social Responsibility (CSR) has donated medical equipment such as dialysis machines to those who are affected by kidney diseases and water purifying systems to provide clean drinking water for citizens. Contributing to infrastructure development of schools of rural areas and similar social contributions are executed on a regular basis.

Singer (Sri Lanka) cordially invites all its trustworthy customers to enjoy a wonderful weekend with the world's best brands and quality entertainment. It is also the greatest opportunity to fulfill the needs for the upcoming festive season in upgrading one's lifestyle for the new year ahead with amazing discounts and offers for brand new products.

Singer (Sri Lanka) implies the Life Style Exhibition as a reciprocal gift with gratitude to all citizens for placing it as the best brand of the country.

So, grab the greatest opportunity in town, head out to the Singer Life Style Exhibition 2017 and enjoy an extraordinary relaxing weekend in 'Living out your dreams' with the world's best technology and a fun filled weekend.