---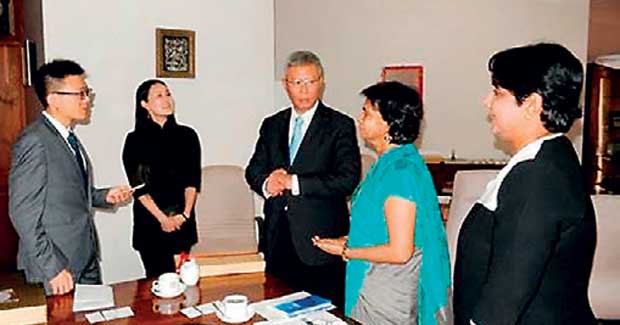 The delegation in discussion with Ceylon Chamber of Commerce CEO Dhara Wijayatilake
A delegation from the China Council for the Promotion of International Trade (CCPIT) of Shanghai Sub Council visited the Ceylon Chamber of Commerce (CCC) recently.

The delegation, which was led by Shanghai Sub Council CCPIT Vice Chairman Li Zhigang, emphasized the creation of a channel of communication between Shanghai and Sri Lanka to enhance business links between the two sides.
"We want to establish a channel of communication between Shanghai and Sri Lanka to help improve business between the two sides," Zhigang said.

He said the visit to Sri Lanka is marked at a time the Chinese government encourages Chinese businesses to invest in overseas countries. In response, CCC CEO Dhara Wijayatilake said, "We are overwhelmed to see the heavy number of Chinese business delegations visiting Sri Lanka, which will help lift commercial ties between the two nations."

She also said, "Sri Lanka is an important position in the international maritime route and the investors should make use of this situation."

The Chinese delegation also included several other representatives of the CCPIT and also a delegate from the Shanghai International Economic and Trade Arbitration Committee.

CCC Senior Assistant Secretary General Lilakshini De Mel was also present during the meeting.