---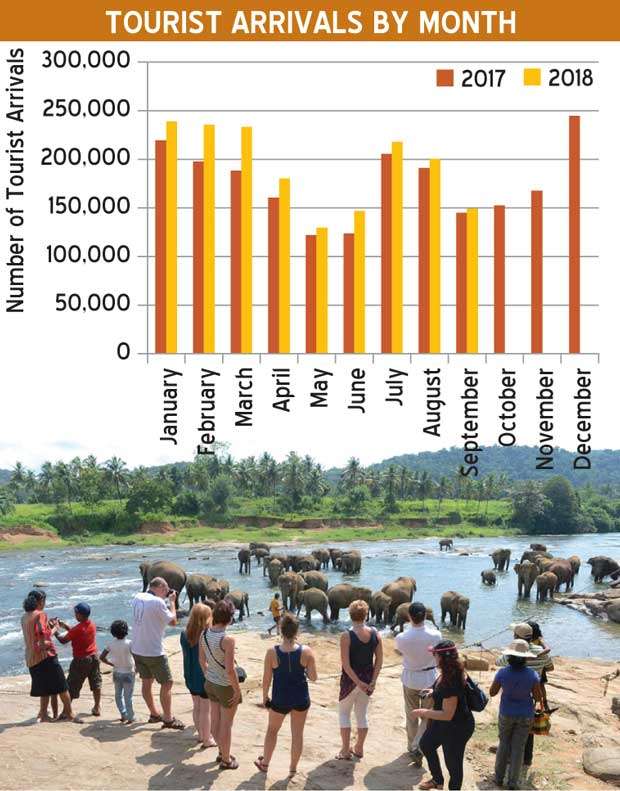 Tourist arrivals grew only 2.8 percent to 149, 087 in September, the lowest growth recorded so far this year, amid a sizeable drop in tourists from Middle East, the data released by the Sri Lanka Tourism Development Authority (SLTDA) showed.

Asia Pacific continued to be the largest source of tourist traffic to Sri Lanka with 47 percent of the total traffic during September. Europe accounted for 43 percent, America 6 percent, Middle East 3 percent and Africa 1 percent.

However, arrivals from the Asia Pacific fell 3.2 percent year-on-year (YoY) to 81, 114 and India as the single largest source market in September accounted for 32, 300 tourists, down 6.3 percent YoY.

Arrivals from China, the second largest source market rose 3.5 percent YoY to 19, 600 in September.

Tourist arrivals from Europe rose 18. 4 percent YoY to 55, 176 and United Kingdom being the third largest source market accounted for 14, 226 tourists, up 13 percent.

The number of German tourists who visited Sri Lanka in September also rose 12.8 percent YoY 9, 668.
Tourist arrivals from the Middle East fell 53.3 percent YoY to 3, 386, with only Iraq registering a positive growth YoY basis.

The cumulative tourist arrivals in the first nine months of the year were little over 1.73 million.

The Tourism Minister is hopeful that Sri Lanka could attract 3 million tourists this year. According to Central Bank data tourism industry earned US$ 2.16 billion during the first six months of the year.

Tourist arrivals in 2017 hit an all-time high of 2.11 million, which represented a 3.2 percent growth YoY. Tourism revenues rose by a similar percentage to an all-time peak of US$3.63 billion.

The government has set a US$ 4.5 billion earnings target for the industry this year.