---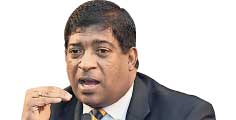 By Chandeepa Wettasinghe
With the ban of asbestos importation looming in 2018, Finance Minister Ravi Karunanayake said that he will come to a political agreement with President Maithripala Sirisena to provide mining licences to the red clay roof tile manufacturers, in order to avoid a shortage of roofing materials in Sri Lanka.
Speaking at the 10th Ease of Doing Business Forum organized by the Finance Ministry, Karunanayake asked the Geological Survey & Mines Bureau (GSMB) to come up with a report on the subject within a week, in order to take up the matter with the President.

"Bring a report in a week, and I will go to the President to bring a political solution," he said.
Speaking sternly to a GSMB official, Karunanayake noted that the GSMB has been receiving a lot of flak from many industries recently.
"You're saying that they (the manufacturers) have to go to 6-7 places to get permission to mine in their own land? We need to ease the laws of getting licences. While we are promoting investment with one hand, the raw materials required domestically are not being given," he said. According to the GSMB—which comes under the purview of the President—due to environmental concerns, obtaining a mining licence requires approval from many agencies, including the Central Environmental Authority, the Archaeology Department and the District Secretariat.
Tile Millers Association Chairman Baptist Fernando told Karunanayake that the clay roofing tile manufacturers, who are predominantly based on the North Western Province, had applied for licences over a year ago, and only received approval for about 2 percent of them.
"Because the government is blocking us from mining in our freehold land to collect enough raw materials for our trade, we have to turn towards illegal miners, who cause environmental damage," Fernando said.
Karunanayake, who initially cast doubts on whether there would be any major environmental impact from mining clay, took a more moderate stance after discussions with officials.
"It is a complex matter. We will look at both sides to see if there are any environmental impacts," he said.
According to Industrial Services Bureau CEO Neelakanth Wanninayake, the red clay roofing tile industry supports 350,000 direct and indirect jobs in the country.
He noted that the industry produces 50 million tiles annually through 235 mills, 165 of which are in the North Western Province.

President Maithripala Sirisena ordered to ban the importation of asbestos, which are used in the popular cement roofing sheets, due to health concerns. Those supporting asbestos note that the white asbestos being used now are not a critical health concern, and that clay roof tiles are too expensive, and are too heavy, and therefore require houses which have stronger walls. Cheap aluminium sheets are also used for roofing by the lower end of the income pyramid.