---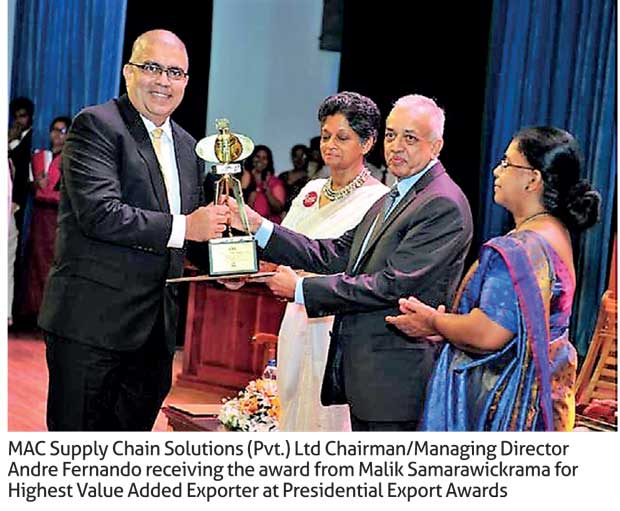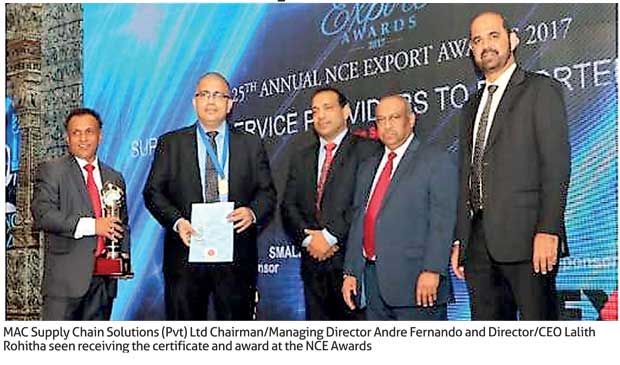 MAC Supply Chain Solutions Private Limited, a fully owned subsidiary of MAC Holdings Private Limited was accoladed at the NCE Export Awards and Presidential Export Awards.

MAC was adjudged with the highest recognition by awarding the prestigious Gold award at the NCE Export Awards in the Suppliers and Service Providers to Exporters Sector - Extra Large Category 2016 which was held on the 29th September 2017 (Freight Forwarding Sub sector).

MAC Supply Chain Solutions Private Limited was also adjudged as the Highest Value-Added Exporter - Entrepot Trade for 2016 at the Presidential Export Awards presentation held on the 14th September 2017 which was graced by President Maithripala Sirisena, Senior Cabinet Ministers and other dignitaries.

MAC Supply Chain Solutions has proven its capabilities as a solid, reliable and innovative solutions service provider elevating itself to the highest categories with the aforementioned recognitions at national level.

The National Chamber of Exporters (NCE) is the sole private sector chamber that exclusively serves Sri Lankan exporters and is considered the 'voice of the exporter'. Incorporated in 1994, the chamber has a membership of over 450 export-oriented companies covering all products and most of the services sectors, as well as service providers to exporters.

EDB on the other hand is Sri Lanka's apex organization for the promotion and development of exports and was established in 1979. EDB is the executive arm of the Export Development Council of Ministers, which is the policy-making body of the EDB and is headed by the President of Sri Lanka.
The Presidential Export Award organized by the EDB is the highest form of recognition given to an exporter for its contribution towards the export effort of the country. It is awarded by the President of the Democratic Socialist Republic of Sri Lanka at a significant awards ceremony.

The EDB/NCE awards recognized service providers to exporters such as MAC Supply Chain Solutions, which have made a significant contribution to the economy while rewarding them on their achievements both in the local and international marketplaces. Both these events have achieved national and international significance over the years in view of its professionalism and high standards.

In an interview, Chairman/Managing Director Andre Fernando stated: "These awards were an endorsement of the excellence in services provided by MAC Supply Chain Solutions complimented by the extensive teamwork displayed by every member of the MACfamily."

MAC Supply Chain Solutions (Pvt.) Ltd celebrated its 20th anniversary in 2016, which coincided with these two prestigious award recognitions. Fernando further went on to mention: "We have achieved many millstones and out of all, these two awards tops the list, as it justifies the quality of our service and it was encouraging to be recognized as a leader in the freight and logistics industry to the next generation."

He concluded by acknowledging that, a feat of this magnitude would not have been possible if not for the unwavering commitment and support of its stakeholders."We strongly believe that success cannot be enjoyed alone and are dedicated in sharing our success with all our stakeholders."

The company has been an exemplary model for its effort in sustaining its business philosophy on respect, ethical practices, trustworthy, accountable, reliability and speed. Over the years, MAC has emerged as a company with core principles that are firmly committed to enhancing its service standards way beyond traditional boundaries by providing specific and customized solutions to suit the needs of its valued clientele.

Since its humble beginnings in October 1996, MAC Supply Chain Solutions (Pvt.) Ltd has expanded itself to be a full-fledged freight and logistics solutions provider offering varied services from sea and air freight forwarding and consolidation, customs brokerage, value added services, Multi Country Consolidations (MCC) and transshipment, entreport, road haulage, project logistics,4PL warehousing and distribution and more.