---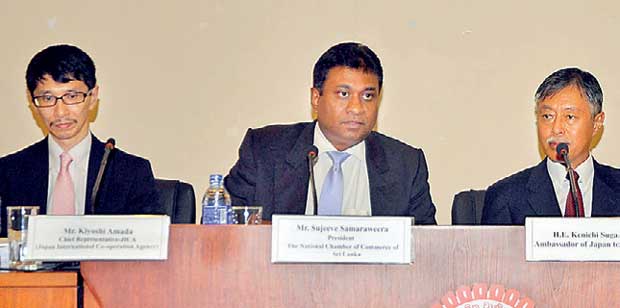 From left: Japanese International Cooperation Agency Chief Representative Kiyoshi Amada, National Chamber of Commerce President Sujeeve Samaraweera and Japanese Ambassador to Sri Lanka Kenichi Suganuma
Pic by Waruna Wanniarachchi
By Supun Dias
Japanese Ambassador to Sri Lanka Kenichi Suganuma invited Sri Lankan businesses to penetrate the Japanese market as it would provide them with tremendous opportunities as the Japanese are wealthy people. He said that the Japanese market is very lucrative but they have to be impressed with
quality products.
"So I invite my Sri Lankan friends to make use of this opportunity to explore our market," he said.
"The Japanese like to visit Sri Lanka and stay in five-star hotels and that will help the tourism industry as a whole because they will be spending a lot," Sugamuna said.
He was speaking yesterday at the discussion on the topic 'Bilateral trade between Sri Lanka and Japan' organised by the National Chamber of Commerce Sri Lanka. "I am happy to note that there are a number of large Japanese companies partnering with Sri Lankan companies to enter a third country. This is a positive trend and we want to encourage such partnerships," he added. National Chamber of Commerce President Sujeeve Samaraweera said that Sri Lanka has to do more in order to expand into the Japanese market.
"We have to work hard on how we could tailor made our products to this lucrative market. Japan has helped us from President J.R. Jayawardena's time notably in setting up the national television, hospitals, power generation projects, water supply projects and many more," he said. Japanese International Cooperation Agency (JICA) Chief Representative Kiyoshi Amada said that over the last couple of decades the JICA has provided more than Rs.1000 billion, contributing to 21 percent of the electricity generation and providing 24 percent of water supply in Sri Lanka.