---
Global tourism expert points out need to define the form recovery expected
Says immediate focus should be on domestic market
Stresses need to build awareness of travel protocols to increase confidence
Advises to focus on quality and not quantity of travellers
By Shabiya Ali Ahlam
In an effort to allow global travel and tourism space to bounce back at a faster pace, from the crisis brought about by the ongoing pandemic, a senior representative of the United Nations World Tourism Organisation (UNWTO) highlighted it is imperative for governments and key authorities to define the form of recovery sought in the post-COVID-19 scenario.

"When we look at how the tourism sector is going to recover, we need to critically make sure we define the form of recovery expected, what we exactly mean.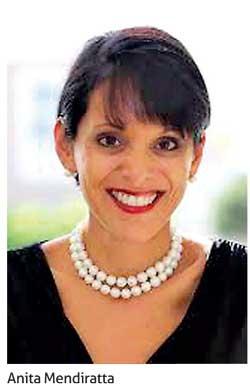 It is not about the new normal but the next normal. It is about the stages of recovery," said UNWTO Special Advisor to Secretary General and CNN Travel International Consultant Anita Mendiratta.

Mendiratta noted that the end of the year recovery would focus much on the domestic market and the reasons for taking up that strategy is valid, given that people are nervous about travelling and leading to that sentiment is the level of awareness of the health protocols in the destinations.

According to the expert, smart governments around the world are encouraging their nationals to holiday home, as it helps rebuild the travel and tourism economy.

"That is critical," she said, while presenting her comments on the theme 'Charting a course for Sri Lanka's tourism future', at the Cinnamon Future of Tourism virtual conference.
She stressed that travellers need to know the protocols that are to be followed at the actual travel journey and when in the destination country.

"That is the big question mark for travel," the expert pointed out.

Furthermore, Mendiratta emphasised that it is essential for the industry to recognise the value of remobilising the travel and tourism supply chain and optimising the yield.
She pointed out that it is the quality of the travellers, not the quantity, that requires focus. Therefore, for the industry to bounce back faster, it is imperative to understand and acknowledge that the motivation of travellers is going to shift fundamentally in the near future.

"Purpose-led travel is going to become critical because of all of us being grounded. The need to travel has come out to the forefront. It is not the physical need to explore but the psychological need of being connected again," Mendiratta said.

Meanwhile, Cinnamon Hotels & Resorts Brand Marketing Head/John Keells Holdings Vice President Dileep Mudadeniya noted that the post-COVID-19 scenario is not about reopening but is about reimagining, where that effort would require a well-thought-out strategic focus.

"Marketing campaigns alone will not be able to get this sustainable recovery. Very few destinations have been successful in purpose-driven tourism and this has resulted in a drop in travel values," he said.

If Sri Lanka gets it right, Mudadeniya opined the reward will create a unique opportunity to reposition the island nation to reflect its true competitive advantage, attract a high yield of visitors and the opportunity to derive higher level of profitability that is inclusive of sustainability.