---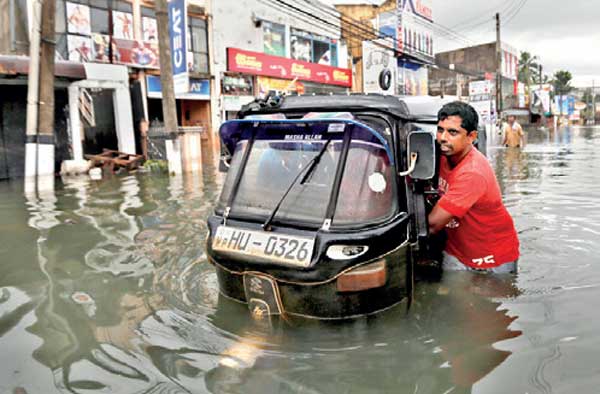 ""By Chandeepa Wettasinghe The brunt of approximately Rs.7 billion insurance payments required for compensation and reconstruction following the destruction caused by the recent floods will be borne by foreign reinsurers due to appropriate transfer of risks, local insurance industry officials said. Over 200,000 individuals had to evacuate their homes due to the worst flooding in 25 years, while 91 died and 109 were declared still missing due to landslides.
"The economic losses are quite high. (But) I can't imagine there would be a significant impact on insurance companies, because they have reinsured their risks with international reinsurers," Insurance Association of Sri Lanka Chairman Dirk Pereira told Mirror Business
. Finance Minister Ravi Karunanayake on Monday said the post flooding reconstruction costs would likely be between Rs.150 and 250 billion. Pereira said that the bottom lines of insurance companies are of no concern, and that the insurance companies are currently focused on processing all insurance claims, evaluating them, and paying back the right amounts to their customers. However he noted that it was too early to forecast the value of claims that would be paid by the industry.
About 30 percent of the liabilities of insurance companies are required to be reinsured with the National Insurance Trust Fund (NITF) by law. "We still haven't got adequate information, but the losses are heavy. We're predicting it to be Rs. 4-5 billion or more. In a worse case situation, the claims could run up to Rs. 10 billion," NITF Chairman Manjula Silva explained about the value of claims that will come under insurance companies.
He noted that corporate losses may be heavy, especially in Gampaha and surrounding areas, where numerous factories are located. "Some companies have taken business inter ruption covers, so there could be more claims from that," Silva said. He added that the government's national disaster insurance programme which was implemented through this year's budget will cover reconstruction and relief exceeding Rs.2 billion.
This programme was implemented because the government had had to bear an annual burden reaching up to Rs.500 million through various disasters. "The Rs.145 million immediate provision of relief to the people was channelled through the Disaster Management Ministry.
They coordinate and we fund. That's how many of the people are being fed, clothed and taken care of," Silva said. He added that to reconstruct houses damaged by the flooding, the Disaster Management Ministry will be sending out a circular today to local governments to evaluate all damages.
"A lot of people are uninsured. Some have insurance policies, but we have to look at the little man. We will have to evaluate if the houses are fully damaged or partially damaged. In some instances, we just have to clean and reframe. It's difficult to give a number but it may run into a couple of million rupees," he said. Silva noted that an additional Rs. 100,000 will be paid as compensation to families for every life lost.
He said that the NITF, which is worth Rs. 10 billion, only has to pay for the 30 percent of the reinsurance of private sector claims, which would run up to about Rs. 1.5 billion. For government claims, NITF has to pay Rs.500 million, plus an additional 20 percent of the remainder. "The rest, we have reinsured with top weighted insurance companies around the world," Silva said.