---
The government has allocated little over Rs.2,057 billion for debt servicing in 2019—the highest amount allocated from a budget in the history of Sri Lanka.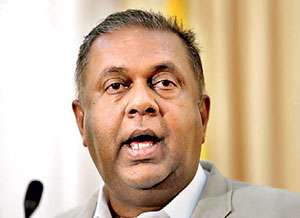 Out of this amount, Rs.1,271 billion should be paid locally next year, while Rs.786 billion, which is equal to US $ 4,650 million, should be paid to foreign lenders.

Accordingly, the government expects to borrow Rs.1,944 billion from local and foreign sources for its debt servicing, including the financing of the budget deficit in 2019.
As per the Appropriation Bill, which was presented to the Cabinet recently by Finance and Mass Media Minister Mangala Samaraweera, Rs.4,376 billion has been allocated for annual state expenditure.

The budget deficit is estimated at Rs.644 billion, which is 4.1 percent of GDP.

Among the government expenditures, Rs.1,456 billion has been allocated for recurrent expenditure of the public sector, while Rs.856 billion has been allocated for capital expenditure.

The government is to spend Rs.1,000 billion for the salaries of 1.1 million public servants and 600,000 pensioners and an additional Rs.220 billion is allocated to provide public welfare such as the 'Samurdhi' allowance, school uniforms, free medicine, allowances for the elders, fertilizer subsidy, bag of nutritious food, payment for kidney patients and payments for the differently-abled.

The allocation for defence in the year 2019, which takes the lion's share, is Rs.306 billion.

Samaraweera will present the 2019 budget in Parliament on November 5, 2018.