---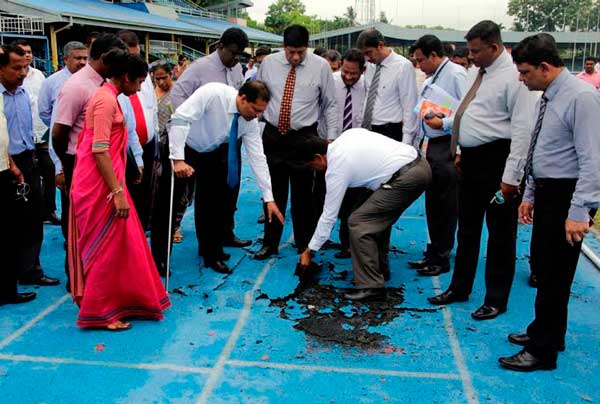 Finance Minister Ravi Karunanayake along with Sports Minister Dayasiri Jayasekera inspecting the dilapidated running track in Sugathadasa Stadium
Minister of Finance Ravi Karunanayaka said formal investigations of all Sri Lankans exposed by Panama Papers would be carried out by the Inland Revenue Department and the Central Bank of Sri Lanka.

During his inspection of the Sugathadasa Stadium last morning, he told the media that the government would not allow finding to be brushed under the carpet.
Meanwhile, Karunanayake made another request to all those concerned Sri Lankans to bring their money from foreign countries to Sri Lanka. He pointed out that their money should be used to develop out country.

Replying a query from the media he said the media had published diverse views about the VAT revision, but 4 percent increase would be spent to cover the wasteful expenditure during the Rajapakse regime. He stressed that it was a means to boost the state revenue.