---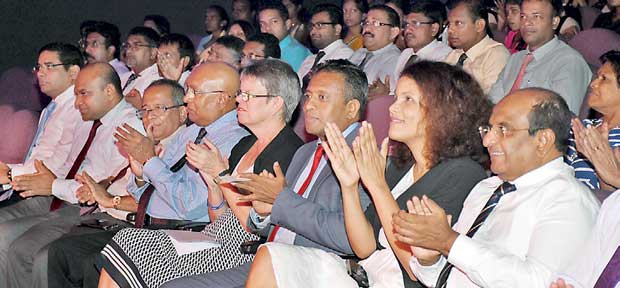 Some of the key stakeholders spearheading the 'Ekata/Onraa' campaign
Pic by Kushan Pathiraja
By Supun Dias
The idea among the general public is that statistics relating to Sri Lanka's educational achievements look outstanding. However the reality is that there is a vast gap between skilled and unskilled labour.
To address this issue from the grassroots level, the government together with the private sector and civil societies has embarked on a social media campaign called 'Ekata/Onraa' to support Sri Lanka's economic growth by promoting skills for youth employment at a time where school leavers end up becoming trishaw drivers or keep protesting in the roads on a daily basis.

Minister of Skills Development and Vocational Training Chandima Weerakkody said, "Since I assumed duties as the Minister responsible for this subject, we have been able to list down the main issues as to why we fail to bridge this gap." We have issued a skills passport to streamline the process of identifying the workforce and to make sure that the individual is within the National Vocational Qualification System (NVQ) level.

"I would also like to take this opportunity to thank all the key stakeholders involved in the 'Ekata/Onraa' project because this is not something that the government can do on its own. This gap could be filled only through a common effort," he noted.

Chairman of DIMO Ranjith Pandithage said, "This is a national issue and the young generation should also focus on every other skill apart from dreaming to become doctors and engineers, which would be impressive if one could become someone like that but we have to deal by being realistic. Therefore as someone who is part of a local business for more than 50 years, my advice is that even if you become a driver, a carpenter or a mason, those are accepted as skilled professions."

"Our society has to respect these people without pushing them to a corner. More and more technical and vocational institutes have to come up to bridge this gap," he noted.

The Federation of Information Technology Industry Sri Lanka (FITIS) Vice Chairman Dr. Kithsiri Manchanayake added that in a couple of years, the IT industry will have to accommodate 500,000 new jobs.

"Therefore developing and improving your IT skills is very important and do not get caught to racketeers who conduct courses on Microsoft Office/Word because it is like taking a bucket of water from the sea," he said.

Social marketing is a dynamic approach to social change that uses traditional commercial marketing tactics to promote social good. The mass media campaign, incorporating television, radio, digital, print and social media will target at least 8.5 million people.

The initial investment in the campaign is being funded by the Government of Canada through World University Service of Canada (WUSC).The first of its kind in Sri Lanka, this campaign will bring together stakeholders from across sectors and spheres to work together for a common goal.

The launch took place at the Bishops College Auditorium as Canadian High Commissioner to Sri Lanka Shelley Whiting and other key stakeholders involved in this initiative were also present.