---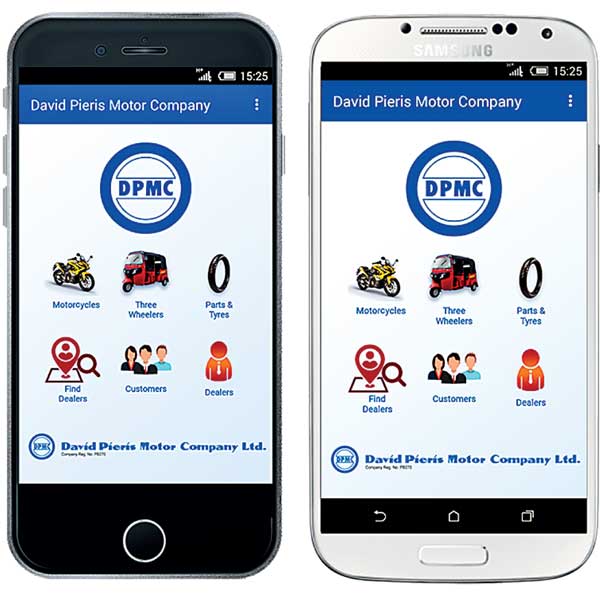 David Pieris Motor Company Limited (DPMC), Sri Lanka's largest automotive company announced the launch of an innovative mobile app for their customers, sales, service, spare parts dealers as well as non-Bajaj vehicle owners.

This is yet another first in the automotive industry which connects the company with their customers, enabling them to respond quickly to their queries to ensure even greater customer satisfaction.
Designed with the intention of providing real-time information to the extensive DPMC customer base which is spread island wide, this new mobile app enables them to find details on the latest products, including prices and technical specifications of motorcycles and three-wheelers, details on MRF tyres, and the location of the company's spare part vending machines and available parts.
They can also request for quotations while through push notifications, the company gets even closer to a direct interaction, and can easily remind customers about their products, services and promotions.

The app allows customers to locate DPMC dealerships within a 10km radius by simply tapping the 'Find Dealers' icon. Customers can not only find the closest DPMC sales, service and spare parts dealers but also contact them at the click of a button or get directions to their locations.
The dealers too stand to benefit from this app as they can get the latest prices, product or promotional updates directly from the company, and help or advice for any issues they encounter, with the added benefit of attaching photographs where necessary.

The app also allows any vehicle owners to create and manage a vehicle maintenance chart and set service reminders.

The app helps the company make a true and sincere connection with its customers and stay closer to them, being just a "fingertip" away at all times.

David Pieris Motor Company Ltd is the largest automotive company in Sri Lanka, serving the vast majority with its hallmark of affordability and reliability.
DPMC mobile app was designed and developed by Wijeya Digital Media, the digital media arm of Wijeya Newspapers Ltd.