---
By Zahara Zuhair
Asserting that transforming Sri Lanka's export sector is probably the most crucial economic challenge the country now faces, the Central Bank Governor Dr. Indrajit Coomaraswamy recently highlighted the importance of giving prominence to high-tech products when diversifying the country's export basket.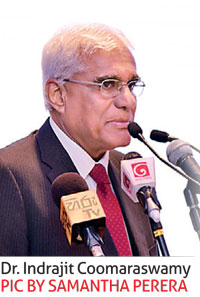 "At present despite the share in the industrial exports having 77 percent of the total exports, it is estimated that high-tech exports account for less than one percent of Sri Lanka's total manufacturing exports. Improving its ratio in terms of investing in machinery, technology and skilled labour is necessary for our exports. Therefore, investing more in high-value, complex products, will create high paid jobs," he said. Dr. Coomaraswamy was addressing the Annual General Meeting of the Exporters' Association of Sri Lanka of Ceylon Chamber of Commerce, last Friday in Colombo.

High-tech exports are products with high research and development (R&D) intensity, such as aerospace, computers, pharmaceuticals, scientific instruments, and electrical machinery. High-tech exports accounted for 0.91 percent of Sri Lanka's total manufacturing exports in 2014. Its highest value over the past 24 years was recorded as 3.24 percent of GDP in 1999, while its lowest value was 0.56 percent of GDP in 2002. Though Sri Lanka's high-tech exports had fluctuated in the recent years, it was on the up during 1992-2015 period, earnings US $ 59.3 million
in 2015.
While pointing out that Sri Lanka's traditional products, tea and garments, which account for more than half of the country's exports, should be looked at with renewed focus, he said the services sector has more scope to grow.

During his address he also shared some of the policies the government is planning to implement to boost exports and trade competitiveness. He said Export Development Board's National Export Strategy (NES), a collaborative effort between the public and private sectors, which is a 5-year action-oriented framework is being formulated for the development of trade and competitiveness.

He further said a National Trade Policy has been drafted. "It is a very neat 20-page document. For the first time it is formulated in a concise way the country's trade policy, for me it is very well presented," Dr. Coomaraswamy said.

He also stressed the importance of anti dumping laws when the country is gearing to open up for trade through bilateral trade agreements. He further said the government is working on a trade adjustment package with the help of World Bank and the International Trade Centre in Geneva to assist companies which are going to be affected by liberalization and also to assist workers whose jobs will be threatened. Meanwhile, Dr. Coomaraswamy acknowledged the natural nervousness that could arise from a small country like Sri Lanka negotiating a trade agreement with big countries like China and India. However, he said Sri Lanka is not the first county that has negotiated a free trade agreement with a big country. Citing, Mexico as an example, he said that Mexico is benefiting from the North American Free Trade Agreement (NAFTA) more than Canada and the USA. "Mexico has been benefiting from NAFTA. So, Trump has been crying foul, telling all these stories about Mexicans. So being in a partnership with a powerful country, a small country still can benefit" he said.

But, he noted that certain principals have to be implemented to reap well from these agreements.
He also stressed that it is important to find ways to link small and medium sized enterprises (SMEs) to enter international supply chains.