---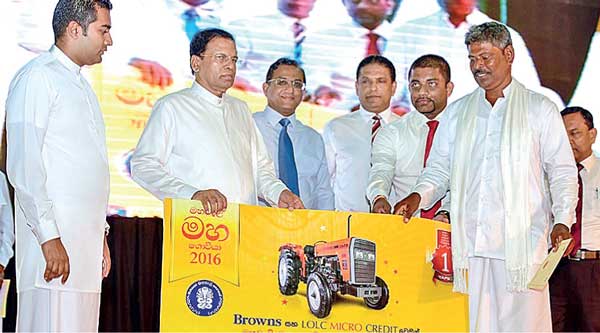 President Maithripala Sirisena along with Sanjaya Nissanka-Deputy General Manager, Browns Agriculture handing over the prize check to the 'Mahaweli Maha Goviya' first place winner, Rajapaksa Pathiranage Premadasa of the Huruluwewa Zone
A ceremony was held at the Mahaweli Buddhi Mandapaya in Embilipitiya recently organised by the Sri Lanka Mahaweli Authorityand under the patronage of President Maithripala Sirisena, to award winners of the 'Mahaweli Maha Goviya' and 'Best Mahaweli Farmer Organization' competitions.

This was conducted with the aim of aiding a sustainable conservation of the country's irrigation system through organic farming and efficient water management in the Mahaweli Farming Community.
The winners of the 'Mahaweli Maha Goviya' were picked out from around 104,000 Mahaweli Farmers,and 'Best Mahaweli Farmer Organisation' was selected from among 1007 farmer organisations.

Browns Agriculture in collaboration with LOLC Micro Credit, played a significant role by way of contributing a BrownsTAFE 45DI OIB Tractor for the 1st place winner of the Mahaveli Maha Goviya event.
TAFE is the third largest tractor manufacturer in the world and the second largest in India and is recognised as a high quality mass-manufacturer with an extensive product range to meet the expectations of every farmer and every farm mechanisation. Browns TAFE is a trusted brand among the farming community in Sri Lanka and holds an above 57 percent market share.

And a point to note is that, the other prize winners of the 'Mahaveli Best Farmer Organization' and 'Mahaveli Best Farmer' competitions were also awarded with Browns TAFE, Browns Sifangand Browns Yanmar Combine Harvester tractors.

Sharing his sentiments on the event Sanjaya Nissanka-Deputy General Manager, Browns Agriculture said, "We at Browns Agriculture are honoured to acknowledge that ourvision and goal is to fulfil the responsibilities and duties towards the farming community, who play a critical role in strengthening the national economy; a remarkable feat that often goes unnoticed.The onus is on us and other similar organisations to uplift this community and empower them. Events of this nature give us that opportunity to do so."