---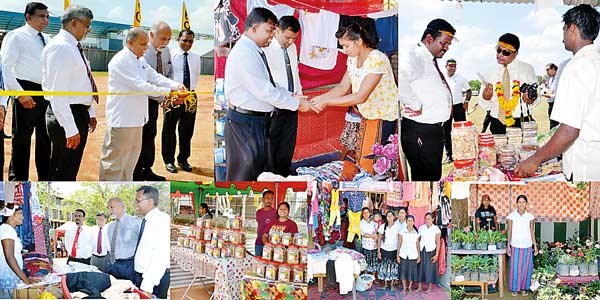 In support of the government's poverty alleviation and enterprise development strategy, the Bank of Ceylon has organized a rural community development exhibition and sale centres during the New Year season in four main regions, where most of these customers are centered.

Named after "BOC Mithuru" Micro development project, "BOC Mithuru" fairs were conducted in April for three days in Kilinochchi, Baticaloa, Anuruadhhapura and Welimada towns. Having been organized under the Bank's micro-finance development programme, these exhibition and sales centres enabled over 250 micro entrepreneurs who are being supported under the "BOC Mithuru" project helping them to enhance their network within the community, develop their value chain, establish market linkages and to earn a quick income during the avurudu season. Participants also got valuable feedback on their products enabling them to come up with fresh ideas and build more confidence about future prospects. These exhibitions and sales centres accommodated small-scale manufacturers of food and beverage, foot-ware, garments, handcrafted ornaments, jewelry, household items and many other similar goods creating an ideal market place targeting the Avurudu season.

It is also noteworthy to mention that many of the entrepreneurs had the opportunity to receive new business orders from customers who came from the same region for a lasting customer relationship. The event was a showcase of technologies and industry trends that are currently used by small scale entrepreneurs as well and gave a glimpse of their upcoming innovations. Mrs. K. Ariyawathie from "Yaya 4, Rambewa Wana Ekamuthu Mithuru" development society told that she is very confident now that she could build a good market for her products through the information and knowledge she gathered and very much looking forward towards putting her new plans to action.

The Kilinochchi center has also featured a special event where BOC Micro entrepreneurs from Anuradhapura region were invited to open stalls in the Kilinochchi centre and vise-versa. It became an opportunity to introduce their products to new markets. This was an epic moment of reconciliation via trade between Northerners and those from the central part of the country. It was an opening of new trade-ties between entrepreneurs of these two regions where all of them had the opportunity to find new markets and paved way for new bonding between two communities.

On the part of the Bank's Corporate Social Responsibility, "BOC Mithuru" project is one of the key initiatives BOC has established to provide financial inclusion to assist economic growth and livelihood development of the most needed segments in the country. Building on concepts of social mobilization, inculcating the savings habit and counseling, it is designed to provide a structured facilitation for individuals in needy segments of the society. Through forming groups with like mined people, inculcating the habit of saving within the group, improving livelihood by facilitating financial assistance for their income generating activities, it has helped them to break out from the cycle of poverty and debt, thereby guiding them to an improved living standard. Most of these groups are formed from those who are reluctant to transact with formal banking or have been neglected by formal banking stream. As of today "BOC Mithuru" has disbursed Rs.2 billion under PAMP (Poverty alleviation Micro Finance Project) and over Rs. 5 billion under other micro finance projects.

"In order to achieve BOC Mithuru objectives more wholesomely the Bank of Ceylon acts not only as a mere financier but also as a resource person to facilitate business planning, a source of information, as an educator in sales and marketing and as a platform provider for networking with likeminded people. The Bank shows a special interest towards assisting the unique needs of start-ups, young and women entrepreneurship development. And we hope to expand benefits of "BOC Mithuru" with exclusive features to empower these segments in the country in the near future," stated Deputy General Manager Product and Development Senerath Bandara.

In aid of national development BOC often ensures that this micro-development programme indirectly helps in generating of quality employment, reducing poverty and contributing to sustainable growth of the country's economy. "Currently the bank hosts around 24,175 of groups compromising 124,000 members. To enhance efficiency BOC Mithuru has formed more inclusive clusters called ''BOC Mithuru development societies" compromising 10 to 15 "Mithuru Groups". Currently 600 such clusters have been formed and out of these development societies 310 have been registered under Register of Companies. This process has enabled the Bank to provide "Bulk loans" to these clusters more effectively," said Assistant General Manager Product and Development Banking W.A.C. Tissera.