---
By Chandeepa Wettasinghe
Sri Lanka's 'Captain Cool', who has recently been playing hardball with China to get favourable terms for Sri Lanka over the Hambantota port lease deal says he will continue to work towards making the deal advantageous to Sri Lanka before an agreement is inked.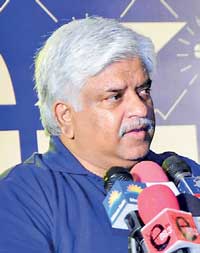 "We have done a lot of changes. We want to do a lot more changes before we finalize this. We have not done enough. We are discussing this. We are analyzing this. This time all the top officials are working on it," Ports and Shipping Minister Arjuna Ranatunga told Mirror Business this week.
One of his key aims was to reduce the period of the proposed public private partnership (PPP) with the Chinese state-owned China Merchant Port Holdings (CMPH) down to 50 years from the 99 years currently being discussed.
"I believe it should be 50, that's the President's view as well," Ranatunga said. He noted that CMPH has now agreed to become only a service provider, without undertaking ownership of the piloting, dockage and the land area, which would require the setting up of a private ports authority.
"I don't want to create a new private authority. The entire Cabinet agreed on that," Ranatunga said, also adding that he would labour to always protect the Ports Authority Act of 1979.
Under the previous arrangement announced, CMPH was supposed to own 80 percent of the shares in Hambantota port and take over the entire port for US$ 1.12 billion, while the Sri Lanka Ports Authority would own 20 percent.
Prime Minister Ranil Wickremesinghe had recently noted that CMPH had agreed to sell down 20 percent of the shares to the Sri Lankan government or another local investor 10 years after signing of an agreement.
However, Ranatunga said that the two parties have yet to come to a consensus on the shareholding structure.
He noted that the government and CMPH have agreed on most of the terms, but that China is still attempting to manipulate some of them.
"Most of the things they have agreed but some of the things they are still trying to manipulate and get it done," he said.
Wild contradictions among Sri Lankan politicians and between Sri Lanka and China have surfaced with regard to Hambantota port over the past year.