---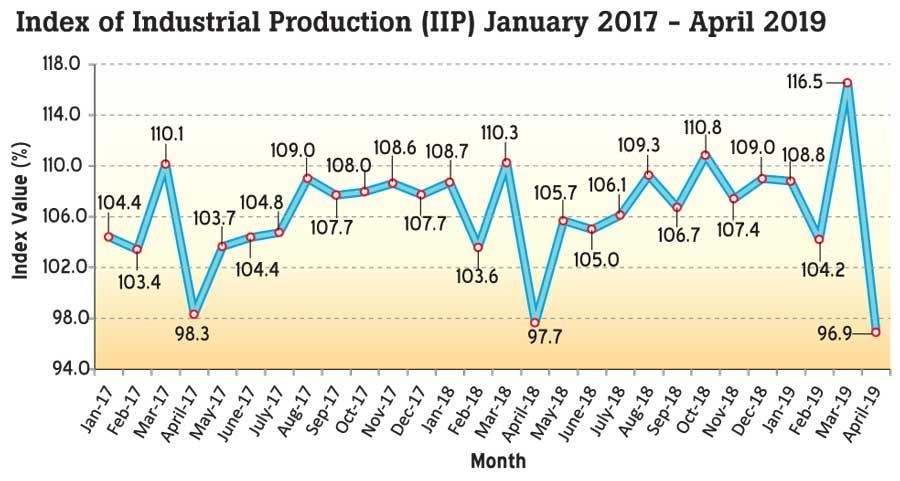 Sri Lanka's industrial production hit a three-year low in April amid New Year holidays and Easter bombings that kept workers away from factories, the data released by the Department of Census and Statistics showed.
The Index of Industrial Production (IIP) in April fell to 96.9 points from 97.7 points in April 2018. This was the lowest since the 95.3 points recorded in April 2016.
Industrial production in April is generally down compared to other months of the year because of less worker turnout at factories due to traditional New Year holidays. For instance, IIR in April 2017 was also 98.3 points. The index carries point to point changes since January 2017 measuring the changes in industrial production volume.
The index recorded its highest ever value of 116.5 points in March 2019.
Food production in April 2019 fell 9.9 percent year-on-year (YoY) to 93.4 points while the biggest decline in industrial activity came from tobacco products, which fell 30.9 percent YoY to 52.5 points.
Apparel production which accounts for significant industrial production volume grew only 8.1 percent YoY to 110.2 points in April.
Manufacture of rubber and plastic products rose 22.8 percent YoY to 100.9 points, while the manufacture of paper and paper products fell 24.4 percent YoY to 73.1 points.
Manufacture of coke and refined petroleum products rose 16.8 percent YoY to 112.1 points.
The Index of Industrial Production (IIP) is an abstract number, the magnitude of which represents the status of production in the industrial sector for a given period of time. The IIP describes changes of the volume of goods produced over time.