---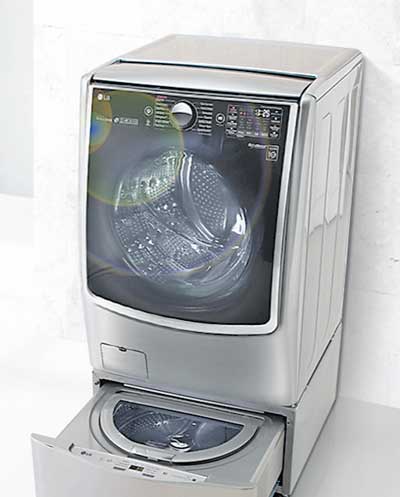 Abans, the sole agent in Sri Lanka for LG Home Appliances, recently launched the world's first LG Twin Wash dual washing machine, which saves time and energy by washing two loads at the same time.

LG's innovative Twin Wash is two washing machines in one – the main washer which takes a giant load capacity of 21 kilos is mounted on top of a detachable pedestal washer which has a load capacity of 3.5 kilos.

The LG Twin Wash is ergonomically designed for easier loading; the elevated, angled door not only means less bending and reaching, it's also the secret behind the stylish, contoured front. The sleek control panel is integrated into the door, adding to the already distinctive good looks of the LG Twin Wash.
Housewives are aware that not all types and colours of fabrics can or should be washed together. So when you have to separately wash dark and light colours and different types of fabrics, it can be very time consuming to wash a large family's laundry, even with today's large capacity washers.
With the innovative LG Twin Wash it is possible to wash full family-size loads and special care or light soiled clothes at the same time, without taking any extra space in the laundry room.
The LG Twin Wash easily handles the biggest loads, including king-size comforters and full set of king-size bedding in a single load, saving valuable time and energy. Piles of towels, loads of jeans, baskets full of soiled bed linen? No problem, you can do more laundry in less time with a total of up to 24.5 kilos for a large combined washing capacity.

The one-of-a-kind mini pedestal washer fits conveniently below the main front load washer to wash and clean small loads that require special care. What's more, you save up to 20 minutes without shortcutting cleaning performance. Which means you can spend more time to relax with your family.
Visit Abans Elite Showroom Kollupitiya for a free demonstration of the innovative LG Twin Washer.