---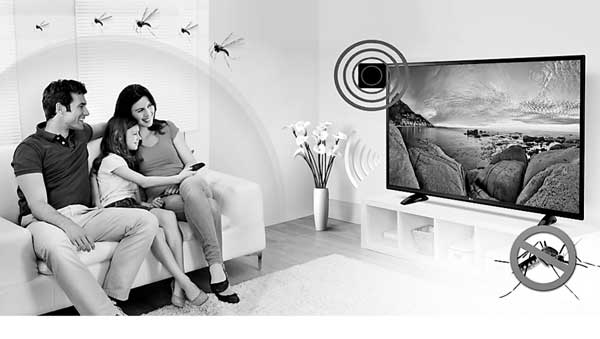 Keeping one's family safe from mosquitoes has currently become one of the top concerns for homeowners across Sri Lanka. This is due to the fact that mosquitoes, especially a special strain known as Aedes Aegypti, has been pinpointed as the primary cause behind the rapid spread of Dengue, Zika and Chikungunya, three diseases which are excruciatingly painful and potentially life-threatening.

To address Sri Lankan homeowners' concerns regarding mosquitoes, LG has developed a new range of TVs that come with the innovative Mosquito Away technology. The special mosquito away technology is equipped with a special feature that when switched on, emits a noiseless ultrasonic wave that paralyzes the mosquitoes' nervous system, thereby, eliminating them. LG Mosquito Away TVs also do not use harmful insecticides, making them safe for even children and infants.

To provide consumers with added convenience, LG mosquito away technology does not use liquid repellents, thus, saving you the extra expenditure that will be spent on frequent refills. LG's mosquito away function has also been certified by the International Institute of Biotechnology and Toxicology (IIBAT) India, providing a testament to the product's effectiveness and efficacy in protecting families from mosquitoes.

Further, LG Mosquito Away LED TVs provide you with enhanced picture clarity and a colour impression that is most identical to that of the original image, making your viewing experience comfortable for your eyes. LG's brilliant, sharp and vibrant images also make you feel as if you are watching the events unfold on screen take place in real life, helping you recreate the best cinematic experience at your home.

Additionally, this TV range comes with a special feature known as the smart energy saving function that lowers your level of electricity consumption. This feature includes a backlight control for adjusting brightness as well as a standby mode zero function that allows your TV to effectively hibernate, helping you save both energy and money. The LG Mosquito Away TV range protects you and your family from mosquito-transmitted diseases, while providing that ultimate viewing experience at home. The LG Mosquito Away TV will be available for purchase at any Abans and Abans Elite showroom islandwide.