---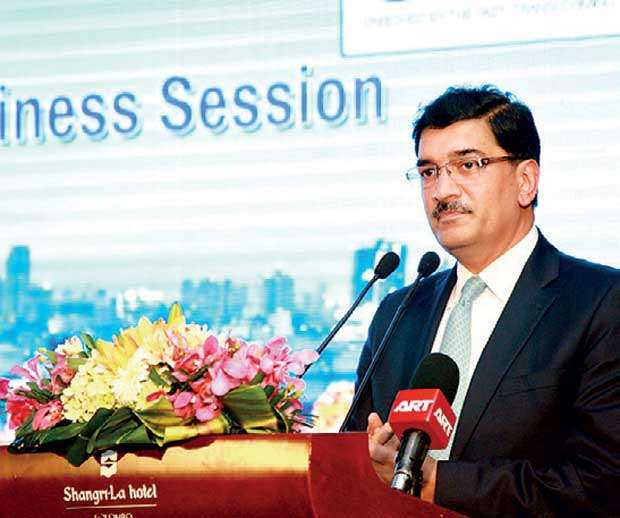 Ajay Sharma
Pic by Damith Wickramasinghe
HSBC, the market leader in global trade finance, expressed confidence that the World Trade Organisation's (WTO) rule-based multilateral trading system is likely to survive the current trade war between the US and China with some changes.

Addressing the post-business session of the 48th Annual General Meeting of the Sri Lanka Shippers' Council recently, HSBC Asia Pacific Global Trade and Receivables Finance Regional Head Ajay Sharma said, "We also believe that the multilateral trading system is likely to survive the current turbulence with some changes."

He acknowledged that there are some encouraging developments particularly taking place in Asia Pacific, which is favourable for global trade.

He pointed out that the Trans-Pacific Partnership without the US is expected to be signed next March, the recent negotiations of the Regional Comprehensive Economic Partnership are progressing, the ASEAN 2025 blueprint is developed and Singapore, Vietnam, Japan, Australia and New-Zealand were continuing their dialog with the European Union.

"All these agreements will reduce the friction that exists in trade, making it easier for goods moving across boundaries of nations and create opportunities for all of us," he said.

Referring to a recent survey conducted by HSBC, Sharma said, "We talked to 6000 customers. The feedback we get is, over 80 percent of them feel that there will be more trade. However, 70 percent of them feel the rise of protectionism in their markets but they also see some reform that can take place in their home markets, that is positive for trade.
He also drew attention to the recent trends in trade flows, pointing out that inter-trade in Asia exceeds the trade it does with Europe and the US put together.
Commentating further on the trade war between the US and China, he noted that trade wars were something not new.

"Tariff and non-tariff barriers have been erected over the last eight to 10 years, following the financial crisis," he added.

He stressed that the current trade war is indeed worrying as it would hurt long-term investment plans due to uncertainty. He also reminded that referring to the WTO data, the economies that pursued open market policies grow 1.5 times faster than the closed economies.

According to a research conducted by Oxford Economics, if President Trump follows through on his threats to stage a trade war on Europe, China and other countries, it would adversely impact global trade by 4 percent, while wiping away 0.4 percentage points of global gross domestic product (about US $ 800 billion).

However, Sharma noted that global trade with the US only accounts for 15 percent of the overall trade, while highlighting that since 2015, the global trade volumes have grown significantly and insisted that the growth in Asia Pacific and emerging markets would continue to drive the future of trade.

Speaking of emerging tech-trends in trade, Sharma asserted that digitisation, e-commerce and 3-D printing trends would change how trade is done across the world.
Speaking of e-commerce he said, "It is increasingly creating new avenues for sales for business growth, which didn't exist before."

He reasserted that digitisation in particular could increase efficiency in intra-Asia trade significantly; he pointed out that the shipments of goods arrive in the port before the paperwork is completed in most of Inter-Asia trade. Hence, Sharma urged the stakeholders to drive the digitisation process by specially creating a common platform for all the banks. "Digitisation will fundamentally change the way trade finance operates," he reiterated.

He speculated that the impact of digitisation would be quite similar to the impact of 'containerisation', which initially commenced in 1950s, transforming the shipping industry.

Sharma noted that HSBC, the largest player in trade finance business, has taken the initiative in digitisation, which processes over 100 million documents. However, he said that getting all the stakeholders into a common platform remained a challenge.
(NF)