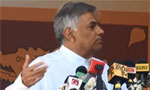 Sri Lanka Cricket which has been dissolved will be administered by an interim committee till the investigations into corrupt deals are completed, Prime Minister Ranil Wickremesinghe said today.
Speaking at the launch of the countrywide free Wi-Fi facilities at a ceremony held at the Fort Railway Station, the Prime Minister said Sri Lanka Cricket owed the Sate Engineering Corporation Rs.500 million and the failure to the bills should be investigated.
He said the Engineering Corporation was asking for the money from the Ministry of Finance. "The awarding of TV rights to certain channels is also being investigated," the Prime Minister said. "It is not possible to allow Sri Lanka Cricket to hold its elections till these investigations are completed by the Financial Crime Investigation Division (FCID)."
He said a committee had been appointed to investigate why the Central Bank, Registrar of Companies and the Chartered Institute of Accountants had failed in their duties to prevent financial frauds.
Recalling his recent tour to Jaffna, the Prime Minister said he visited the Kankesanthurai International Conference Centre which consisted of ten rooms including two super luxury suites, swimming pool and a vineyard on the construction of which the Rajapaksa regime had wasted one billion rupees and constructed on a 200-acre block of land forcibly acquired from residents in the area.
Referring to the Wi-Fi facility he said it was a service launched especially for the youth who should play an important part in the country's new economy and the future.