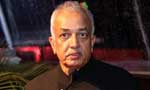 The United National Party (UNP) today said it had finally reached an agreement with the Sri Lanka Freedom Party (SLFP) to form a national government for two years.
UNP Chairman Malik Samarawickrama said in a media statement that an agreement had been reached after extensive and cordial discussions with the SLFP.
"The ultimate objective of both parties was to serve the people by moving away from the traditional political culture and ensuring the betterment of the nation without considering ministries and perks associated with them," the statement said.
Samarawickrama said both parties had to make sacrifices in this endeavor.
Accordingly he said the new government would build a new country within 60 months as it was pledged by the party during elections.
This development came despite contemplation by the UNP to form a government in the event both parties failed to reach an agreement.
Speaking to the Daily Mirror Samarawickrama said there will be 30 Ministers initially divided among the UNP and the SLFP.
However, he said the number of Ministries would be increased with the approval of Parliament as per the 19th Amendment later.
He said the House would have a two day debate on September 3 and 4. The vote is expected to be taken up on September 4.
Samarawickrama declined to divulge more details on how many ministries each party would get and what those ministries would be.
(Yohan Perera)