---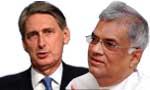 UK Foreign Secretary Philip Hammond today congratulated UNP Leader Ranil Wickremesinghe on his party's election victory and said the manner in which the general election was held was a credit for Sri Lankans.
"On behalf of the British Government, I send my warmest congratulations to Ranil Wickremesinghe on the occasion of his victory. The manner in which the election was run was a credit to the Sri Lankans," he said in a statement.
He said the UK was and would remain a steadfast partner for Sri Lanka on the path towards delivering reconciliation and a lasting peace across the country. "I look forward to continued work with Mr. Wickremesinghe and the new government," he said.