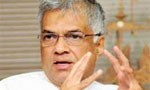 Prime Minister Ranil Wickremesinghe today criticised the sports and business media saying they could be bought over like politicians.
"Front pages of Newspapers are talking of corruption. The sports pages are defending the corrupt. They are asking why we have appointed an interim committee to administer Sri Lanka Cricket. Rs.500 million is owed by Sri Lanka Cricket," he said.
"They can't pay the money. Engineering Corporation is asking for the money from the Finance Ministry. What happened to TV rights? Why didn't they open it up. There are other allegations to be investigated," Mr.Wickremesinghe said.
"Therefore we decided have an interim committee till the Frauds and Crime Investigation Divison carry out investigations. I am surprised that the sports editors are defending this type of thing. We must clean it up. I am surprised at Business journalists as well. We are cleaning up the bond market. We are identifying the rouges," he said.
"We are asking finance companies and the banks what they did. There were conflicts of interests. I have been told that the business pages can be purchased just like politicians. They are no different than the politicians. Newpapers should ensure both sides are reported," he said.
(YP)