---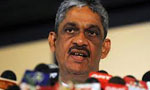 Regional Development Minister Sarath Fonseka said today that 90 percent of the investigations into two complaints against former defence secretary Gotabaya Rajapaksa had been completed -- and that he would have to face the consequences soon.
"Two complaints had been received against Mr. Rajapaksa: one regarding the purchasing of MiG aircraft for the Air Force for US$ 7 million in an improper manner; and the other regarding the misappropriation of Rs. 90 million to renovate the D.A. Rajapaksa memorial. 90 percent of the investigations into those complaints have been completed by now. He will have to answer those allegations very soon," he said.
He said so at the National library where he participated in a book launch.
He said MP Namal Rajapaksa had been remanded on written evidence and documents.
"We promised the people that we would investigate the frauds and corrupt acts of the previous regime and we are doing that. Though former president Mahinda Rajapaksa is trying to whitewash his family, it is now too late," he said.
When asked about the setting up of the Office of Missing Persons, he said no soldier should object to it as none of them had violated the law.
He said the office was set up not at the urging of any foreign power but to show the international community that everything that happens in Sri Lanka is transparent and legal.
"We see this as an act of respect to international law and human rights laws," he said. (Ajith Siriwardana)