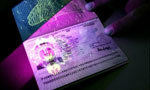 The Department of Immigration and Emigration began issuing the new bio-metric passports to Sri Lankans who queued up in their hundreds since today morning with the authorities experiencing some technical glitches in their automated systems.
The first passport via the one-day service was issued within 45 minutes of receiving the application but the applicants faced a delay of several hours when the computer severs developed a technical glitch.
Department's Spokesman and Deputy Controller Lakshan Zoysa said the technical glitch was caused by the new features such as the ICAO (International Civil Aviation Organization)-standard photographs and individual fingerprints were being entered into the prevailing system.
The situation was soon brought under control and the issuing process continued as usual.
The department had received nearly 400 applications so far for the new passport and they were able to issue about 300 new travel documents by last afternoon.
He said the technical glitches would be overcome soon and applicants and could also visit the department's regional offices in Matara, Vavuniya and Kandy.
"The Australian-aided project of issuing bio-metric travel documents will attract a special recognition to the Sri Lankan Passport worldwide," Mr. Zoysa said.
(Kurulu Koojana Kariyakarawana)