---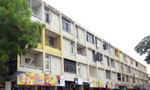 The National Housing Development Authority (NHDA) would relocate the three hundred families living in the Bambalapitiya flats in a sixty storey building, after the flats were demolished for the proposed mixed development project, NHDA Deputy General Manager Sarath Kumara said.
Mr. Kumara said the Bambalapitiya flats would be demolished in order to claim the 10.16-acre land for another housing and semi-commercial project by a Singapore-based Indian company.
However, discussions were still ongoing with the people in the flats, and a date to knock down the building was yet to be decided, he said.
Mr. Kumara pointed out that each family would receive Rs.50, 000 - Rs. 80,000 as rental for temporary places until the construction of the new sixty storey building was completed.
He said an acre from the entire land, valued at Rs.11.3 billion, would be reserved for the relocation project. According to him, the construction of the new building would be completed in two and half years. However, the date of commencement is yet to be decided.
Sources said the Cabinet approval for the redevelopment of Bambalapitiya flats was given on March 2, 2016.
"This building, located near the sea, has decayed and become unsafe. The proposal made by Housing and Construction Minister Sajith Premadasa to implement the redevelopment of the Bambalapitiya flats with foreign investors recommended by the Board of Investment was approved by the Cabinet," the government information department said.
The mixed development project which would be constructed on 9.16 acres of the total land would consist of semi-commercial ventures developed by the Singapore-based Indian company, Mr. Kumara said. (Piyumi Fonseka)