---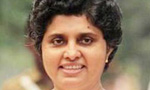 Impeached Chief Justice Shirani Bandaranayake will back common opposition candidate Maitripala Sirisena, particularly on her stand that the executive presidency should be scrapped, political sources said.

Mr. Sirisena, who has the support of several opposition political parties, has promised to abolish the executive presidency if he were elected to the presidency at the January 8th presidential poll.

It is learnt that the former Chief Justice would play a role in mainly handling legal matters during the campaign. However, it is uncertain whether she will appear on the election platform with the party leaders.

Parliament voted to remove her from office in January, 2013 through an impeachment motion alleging corruption. It was carried with 155 voting in favour and 49 against. However, she denied all those allegations.

A few months ago, Ms. Bandaranayake participated in a political event organized by the National Movement for Social Justice headed by Ven. Maduluwave Sobitha Thera. The opposition parties backing Mr. Sirisena's candidature are also having talks with her on the possibility of restoring her rights in case they win the election.

Mr. Sirisena had recently assured that if he won the election he would restore all decorations, military honours and civic rights of former Army Commander Sarath Fonseka. (Kelum Bandara)