---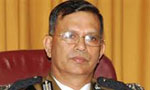 Police Chief N. K. Ilangakoon has instructed all officers including Deputy Inspectors General of Police and Headquarter Police inspectors not to visit the Public Order, Disaster Management and Christian Affairs Ministry without his permission.
It is reported that this decision was taken by the IGP following information received that some police officers had visited the Ministry on several matters bypassing the Police Headquarters, and thus causing inconveniences to the affairs at the Ministry.
Accordingly, any Police officer receiving a request from the Ministry to attend a meeting, discussion or any other matter, will have to inform the Police Headquarters and get permission to do so.
(D.G.Sugathapala)