---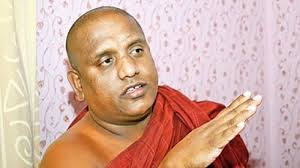 The Ravana Balaya Organisation today went to the Foreign Employment Bureau in an attempt to urge its Chairman to look into the issues faced by the Sri Lankan employees in the Middle East countries.
The Secretary General of the Organisation, Ven. Iththekande Saddhatissa Thera charged that the Lankan employees who had been abused by their sponsors and others were again being harassed by some of the Bureau's employees in the Middle East.
"Women employees in countries like Oman, Saudi Arabia and Lebanon come to Sri Lankan missions in those countries seeking help after they were abused by their sponsors. But some of the Bureau employees had forced these helpless women into prostitution," he said.
The Thera said the employees seeking shelter at the Sri Lankan missions should be brought back immediately. He said that he didn't receive a positive response from the Bureau Chairman Amal Senalankadhikara on the allegations made.
Mr. Senalankadhikara said, "What the monks didn't understand is the ways we solve the issues. It takes time to bring an employee back,"
"We have to get the clearance and approval of other countries, government entities and police to bring them back. We are not deliberately delaying their arrival," he said. (Lahiru Pothmulla)