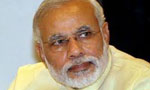 Despite Indian Premier Narendra Modi's pledge to grant on arrival Indian Visas to Sri Lankan tourists from April 14, confusion reigns over the matter with doubts if it would be implemented from that date.
When contacted by the Daily Mirror, Colombo's Indian High Commission First Secretary Gaurav Ahluwalia said they were yet to receive a response on this matter. "I have spoken to my colleagues and I am yet to receive a response. Since this was declared by our Prime Minister I am sure the online visa facility will be launched," he said.
The first Secretary also said they were working on it and the facility would be available after April 14. "Suppose someone wants to visit India on the 15, he or she will have the option of applying for Visa from the 14 onwards. Right now we are working on the back end," he said.
Another official from the High Commission said Sri Lankans could apply for online visa through the website- www.indianvisaonline.gov.in/visa/tvoa.html and follow the relevant instructions given in that. However, it was found that Sri Lanka was not included in the list of countries eligible to gain on arrival Indian Visas.
When the Daily Mirror contacted the Department of Immigration and Emigration an official from the visa section said they were not aware of anything regarding on arrival visa to India yet.
When contacted Deputy Foreign Affairs Minister Ajith. P. Perera also appeared to be uncertain about the situation. "I am not familiar with the situation so please contact the Controller of Immigration," he said.
(Chathushika Wijeyesinghe)