---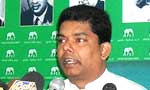 The main opposition United National Party (UNP) today urged the government to appoint a special commission to inquire into the landslide at Koslanda with the objective of preventing such tragedies in the future and to minimise the resultant damage.
UNP Spokesman Gayantha Karunathilake said the estate workers had rejected the claims made by the government that relevant authorities had warned the people living in vulnerable areas about the risk of landslides and had asked them to evacuate.

"The government says it warned people in 2010 and 2011 of landslide risks but people say no one had asked them to move to other areas. These claims should be investigated through a special commission," he told a news conference.

He said the commission should not be like the many previous commissions whose reports ended up in the dustbin of history. "There are many people living in vulnerable areas. It is Government's responsibility to look after them. It should focus on providing these poor people with safer locations to live in without building palaces on land reclaimed from the sea," he said. (Lahiru Pothmulla)