---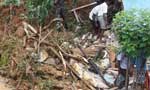 As the second day of the rescue operations in Haldummulla came to an end, another female body was recovered increasing the total death toll to four persons, the Police said.

The body found today had been of a 50 year-old woman. Rescue workers had spotted the corpse this evening, trapped in the rubble.
Some 33 persons remain missing following the tragedy that befell the Meeriyabadda estate located in Haldummulla, Koslanda on Wednesday morning.

The three deceased victims found so far includes a 62-year-old man, a 50/ 60-year-old woman and a six-year-old girl while ten males, 19 females, four boys and one girl are among the missing. Police spokesman SSP Ajith Rohana said the information on the missing persons was obtained through statements of the survivors. (Sanath Desmond)