---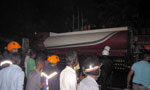 Two army soldiers, now in Police custody over the bowser accident in Anuradhapura on Sunday, where one schoolgirl and a woman were killed, were interdicted today, the Army said.
The two victims who were on their way home from Daham Pasala died and six more girls were injured when the water bowser driven by two civil-clad soldiers crashed into a bus halt.
Police said the two officers had driven the bowser under the influence of liquor.
Army Commander Daya Ratnayake had instructed the Director Legal, at the Army Headquarters to immediately interdict both Army personnel and reprimand those responsible for the incident before they are tried in a Court of Inquiry, headed by a senior officer.
A special team of the Corps of Military Police (SLCMP) of the Army was dispatched from the Colombo Army Headquarters on the orders of the Commander of the Army to begin investigations.
The Army Commander after speaking to relevant officers in Anuradhapura, instructed them to undertake funeral arrangements of the victims and attend to the needs of all affected families at the earliest.